Meghan, Duchess of Sussex, is currently making her first visit to South Africa, as part of a royal tour of Africa with husband Prince Harry and son Archie. But as the duchess acknowledged during a speech at the Justice Desk initiative, which focuses on child protection and female empowerment, her bonds to the continent run much deeper.
"On one personal note, may I just say that while I am here with my husband as a member of the royal family, I want you to know that for me, I am here with you as a mother, as a wife, as a woman, as a woman of color, and as your sister," Meghan, wearing an instantly sold-out black-and-white printed wrap dress by fair trade and sustainable Malawi-based brand Mayamiko, told a cheering crowd of approximately 250 locals. "I am here with you, and I am here for you, and thank you for showing us your Ubuntu [spirit of togetherness]."
According to British news source the Telegraph, it was the first time since her marriage into the royal family that the duchess "made mention in public of her mixed-race heritage." However, the significance of her words and presence were not lost on her South African audience—nor in Nyanga, which with 289 reported murders last year is known as the country's "murder capital." The troubled township was the royal family's first tour stop in South Africa.
"It was incredibly important to my wife and me to begin our trip to South Africa here in Nyanga with all of you," said Prince Harry, during a speech largely focused on combatting gender-based violence, followed by Meghan's. "I wanted to ensure that our first visit as a family, with my wife by my side, focused on the significant challenges facing millions of South Africans, while acknowledging the hope that we feel so strongly here."
As Bazaar reports:
Gender-based violence against women and young girls is an issue South Africa's president, Cyril Ramaphosa, recently called a "national crisis," with 66,992 sexual offenses reported between April 2018 and March 2019.
G/O Media may get a commission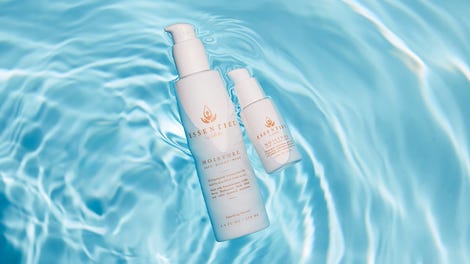 20% off
Essentiel by Adele
"No man is born to cause harm to women. This is learned behavior, and a cycle that needs to be broken," continued Prince Harry. "So now, it's about redefining masculinity; it's about creating your own footprints for your children to follow in so that you can make a positive change for the future. To me, the real testament of your strength isn't physical…Your strength is in your spirit, which for me means honoring and protecting my wife, and being a positive role model for my son."
As Meghan addressed the issue in her speech, she focused on women's empowerment as a vehicle for change:
We are encouraged to hear your President take the next step towards preventing gender-based violence through education and necessary changes to reinforce the values of modern South Africa. I have to say, I feel incredibly humble to be in the presence of all of you as you stand firm in your core values of respect, dignity, and equality.

I read a quote a few weeks ago, and it resonated with me as I've been watching what's been happening here and your efforts. Maya Angelou, the legendary poet and civil right activist, once said: "Each time a woman stands up for herself, without knowing it, possibly without claiming it, she stands up for all women."