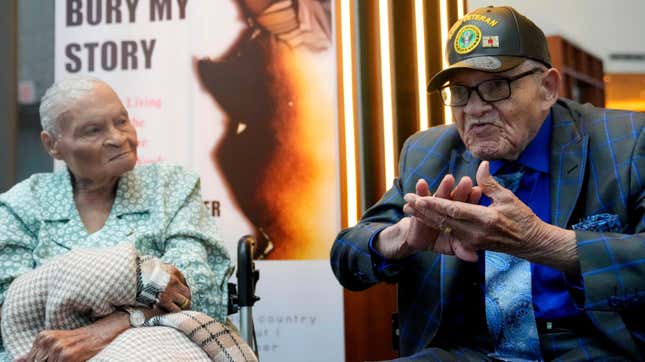 Updated 8/19/23 AT 9:00 a.m E.T:
Though a lower court judge dismissed the case last month, the Oklahoma Supreme Court will consider a reparations case from the survivors of the 1921 Tulsa Race Massacre. Tulsa County District Judge Caroline Wall originally dismissed the case on July 9.
How Atlanta Produced A Cheesesteaks Empire With A Little Help From A Vegan & Rapper Eve | Securing the Bag
However, survivors appealed and the high court will reconsider if that decision was correct and if the case should be returned to Judge Wall for more reconsideration. Ultimately, the survivors want the state's high court to return the case to district court to determine what happened and how it could mollify the long lasting impact of the massacre.
Original Post:
Oklahoma has refused to award a settlement to survivors of the 1921 Tulsa Race Massacre. In addition, the state also appealed a Tulsa County judge's dismissal of the case last month. There are just three living survivors of the attack and they are all over 100 years old.
Hughes Van Ellis, Lessie Benningfield Randle and Viola Fletcher sued for reparations from the city, state and others for the annihilation of the prosperous Black district known as Greenwood at the hands of a white mob. It also claims that National Guard members participated in the massacre, rounding up Black folks and "going so far as to kill those who would not leave their homes."
Other original plaintiffs consisting of descendants of survivors were dismissed from the case last year. In a statement, their attorney Damario Solomon-Simmons expressed disappointment:
"It's no surprise that the state, which took part in a lawless massacre of American citizens, has refused to settle. The survivors of the Tulsa Race Massacre are heroes, and Oklahoma has had 102 years to do right by them. The state's efforts to gaslight the living survivors, whitewash history, and move the goal posts for everyone seeking justice in Oklahoma puts all of us in danger, and that is why we need the Oklahoma Supreme Court to apply the rule of law."

Oklahoma's public nuisance law was the reason the lawsuit was brought in the first place. It alleges that the behavior of the white mob, which resulted in the deaths of hundreds of Black residents and ruined the country's most successful Black business district, continues to affect Tulsa's Black population today.
In the state's response to the appeal, Assistant Attorney General Kevin McClure wrote that the judge ruled that the plaintiffs failed to outline a clearly identifiable claim for relief.
"All their allegations are premised on conflicting historical facts from over 100 years ago, wherein they have failed to properly allege how the Oklahoma Military Department created (or continues to be responsible for) an ongoing 'public nuisance,' McClure stated.
Tulsa officials have declined to talk about the appeal, due to the ongoing litigation.