Ripley, Ohio, has a new local hero. Five-year-old Virtuous Rose Bennett was honored by the city for her courageous 911 call that ended up saving her grandmother's life about two weeks ago.
The kindergartner at St. Michael School was honored by students and community members Wednesday at her school for the courage she displayed during her grandmother's sudden illness.
According to the Ledger Independent, Lt. Howard McClain of the Ripley Life Squad detailed how the incident unfolded to students at St. Michael.
"About two weeks ago, Rose knew that her grandmother was very, very ill," McClain said. "She knew that her grandmother was not acting the way she normally would, so Rose picked up the telephone and called 911."
Rose's grandmother, Beverly Lipps, was suffering from a stroke, McClain explained.
G/O Media may get a commission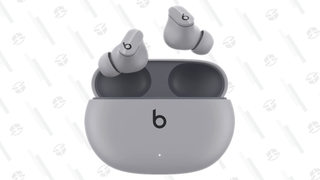 McClain applauded Rose on her composure throughout the whole ordeal and doing what was needed to help her grandmother.
"Rose remained calm. She told us that something was not right and her grandmother was ill, so she called 911," McClain said. "This is a hero. She did something that stepped out of her comfort zone. She remained calm, courageous, and she helped her grandmother."
The EMS presented Rose with a certificate that read: "911 Hero Award, presented to Virtuous Rose Bennett showing bravery and saving a life. You are amazing, you are strong, you are smart and most of all, you are a hero."
Life-squad members also gave her a shirt that read, "Future Cadet of the Ripley EMS."
Rose was able to meet with the members of the Brown County Air-Evac and Ripley Life Squad who helped her save her grandmother. Lipps had to be flown to the University of Cincinnati, where she got the treatment she needed.
"Without Rose, we wouldn't have been able to play a part," Program Director Jonathan McKinnish of Air-Evac 89 Brown County said, according to the Ledger Independent. "The chain of survival and all of the steps that took place to get Rose's grandmother to where she was able to walk in today started with this 911 call."
"I'm very proud of her. It takes my heart; I'm kind of in tears," Rose's grandmother added. "It still brings me to tears to think that she saved my life. I'm very proud of her, and it means a lot to me. I wouldn't be here today if it wasn't for that little girl."
Read more at the Ledger Independent.