Closer Scrutiny Pledged After Widespread Criticism
'Darker, Gayer, Different' Too Much Even for Fox
Reuters Moves Bombshell by Jailed Reporters
Ethiopia Says It Will Free Press Freedom Hero — If
Quincy Jones' 'Outrageous' Conversation Goes Viral
Judge Dismisses Discrimination Case Against CNN
White Pittsburgh Anchor Settles Bias Suit
Michael Smith Says Changes Muted 'SportsCenter'
Blacks Apply for Chicago P.D., but Not Hired
How a Police Department Institutionalizes Racism
Canadian Media Heed Suggestions on Native People
Short Takes


Closer Scrutiny Pledged After Widespread Criticism
The editor of the Albuquerque (N.M.) Journal apologized Thursday after being widely criticized for running a cartoon equating the young, undocumented immigrants known as "Dreamers" with members of the criminal Latino gang MS-13.
"It was a mistake," Karen Moses told Journal-isms by telephone on Friday. "Going forward, there definitely will be" closer scrutiny of the cartoons selected for the newspaper.

"We don't talk about how we make our decisions," Moses said, declining to disclose who made the decision to green-light the offending cartoon. However, Moses added that as the editor of the newspaper, with jurisdiction over its editorial pages, she takes responsibility.
G/O Media may get a commission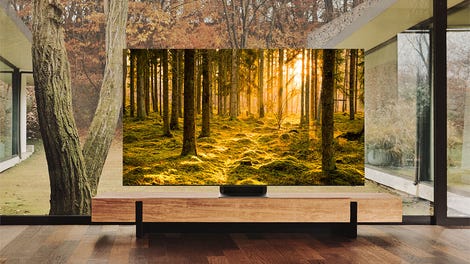 Up to 40% off
Samsung Smart TVs
Simon Romero reported for the New York Times that the cartoon was "prompting outrage from prominent Democrats and Republicans in the state." The illustration, by Sean Delonas, "depicts a white couple being accosted in a back alley by three men. One is holding the couple at gunpoint and taking the woman's purse. Another is wearing a jacket emblazoned with 'MS-13,' the name of a gang that President Trump and others have repeatedly invoked to denounce illegal immigration. The third has on a ski mask and a suicide vest of smoking explosives.
"The male victim tells the woman, 'Now, honey ... I believe they prefer to be called "Dreamers," ' a reference to young undocumented immigrants predominantly from Latin America, and adds, 'Or future Democrats.'
"The cartoon, which was published on Wednesday, quickly elicited criticism around New Mexico, where about 48.5 percent of the population is Hispanic, the highest percentage of any state in the country. Tensions have simmered in the state, which Mr. Trump lost in the 2016 election, over the federal government's immigration policies. . . . "
Romero also noted Moses' written apology, in which she said "that the cartoon 'appeared to us to be poking at President Trump's rhetoric by portraying a quaking Republican couple who were painting Dreamers with a broad, totally false, brush.'
"But Mr. Delonas, the cartoonist, said that while he sympathized with Ms. Moses, he disagreed with her assessment of the illustration.
" 'That's not the way I read it,' said Mr. Delonas, 56, a former cartoonist at The New York Post. 'I've learned that MS-13 is purposely sending minors over here to commit crimes. I'm pretty sure that the cartels are using minors for a lot of their drug dealing.' . . ."
Moses told Journal-isms that she was not aware of previous controversies involving Delonas' cartoons, but "I am now."
After 23 years at the paper, Delonas took a buyout from the New York Post in 2013, during the Barack Obama administration.
"During a long career at the Post, Mr. Delonas was definitely un-PC," Kara Bloomgarden-Smoke wrote then for the New York Observer. "His cartoons for the tabloid at times attracted controversy — like his 2009 cartoon of a [cop] shooting a monkey, while [another cop quips] that they will need to find someone else to write the stimulus bill (prompting cries of racism since Mr. Delonas seemed to be equating a chimp with the president). . . ."
In a rare move, the Post responded to the outcry by apologizing "to those who were offended by the image."
In 2012, after the Associated Press reported on the New York Police Department's clandestine spying on Muslim communities, for which the AP won a Pulitzer Prize, Delonas depicted three Muslims making bombs in an apartment. Looking out the window at the police, one says, "Hello, AP Press? I'd like to register a complaint against the N.Y.P.D. for spying on us."
On Thursday, May Ortega, president of the New Mexico chapter of the National Association of Hispanic Journalists, wrote that she was dissatisfied with Moses' printed apology. "Through publishing this image, you have failed your community and your staff — some of whom we represent. We demand a proper apology for publishing this racist image and a retraction of it. And we ask that you implement a better internal system to avoid these kinds of regrettable actions."
Nationally, NAHJ issued a statement Friday saying, "This morning, NAHJ is able to report a meeting that occurred over the phone with Karen Moses, Editor-in-Chief of the Albuquerque Journal. This critical and sincere conversation included the EIC taking responsibility for the grave error, identified the issue allowing this to happen and laying out the preventative measures the Journal will be putting in place moving forward. . . ."
However, Moses told Journal-isms that the telephone call lasted 30 seconds — "maybe two minutes" — and that she did not specify what preventative measures would be taken.
The Journal did not participate in the 2017 newsroom diversity survey of the American Society of News Editors. Moses said there was "quite a bit of diversity" at her news organization, listing the managing editor, an editorial writer, the arts and entertainment editor and assistant sports editor as people of color.
"We take it for granted," Moses said of diversity.
Elaine Baumgartel with May Ortega, KUNM-FM, University of New Mexico: Journalism Group Condemns Racist Cartoon Published By ABQ Journal (audio)
Suzette Hackney, Indianapolis Star: Trump's tweet about Colts player's death full of deception
Esther Yu Hsi Lee, thinkprogress.org: Cartoon depiction of Dreamers as gang members draws backlash from New Mexico residents
Ruben Navarrette Jr., Washington Post Writers Group: Trump should stop enabling American 'victims'
Elizabeth Preza, Raw Story: This cartoon depicting DREAMers as gang members was so 'insanely racist' the newspaper had to apologize
Julian Sancton, Vanity Fair: Sean Delonas: Stupid, Racist, or Both? (2009)
Fabiola Santiago, Miami Herald: Tragic NFL player's death shouldn't become an indictment against immigrants
April Simpson, Current.org: As a DACA recipient, public radio reporter Esmy Jimenez faces an unknown deadline
Jules Witcover, Baltimore Sun: What Trump could learn about immigration from Woodrow Wilson
'Darker, Gayer, Different' Too Much Even for Fox
"Fox News removed a column from its web site Friday that said it appeared the U.S. Olympic Committee wanted to change the event's motto to 'darker, gayer, different,' " David Bauder reported Friday for the Associated Press.
"The column, posted on Wednesday, was written by veteran Fox executive John Moody. He's executive vice president and executive editor of Fox News, but it appears his chief duty now is to write online opinion columns.
"A Fox spokeswoman said Moody's column does not reflect the views or values of Fox News. It was posted on Wednesday and removed on Friday. The sports-oriented site Deadspin wrote about its contents on Thursday.
"Moody wrote that complaining that every team is not a rainbow of political correctness defeats the purpose of sports, which is competition."It appeared Moody got the idea from a story that quoted [a] USOC official as being proud to take a diverse U.S. team to the Olympics. It was followed by an 'embarrassing laundry list of how many African-Americans, Asians and openly gay athletes are on the team,' he wrote. . . ."
Reuters Moves Bombshell by Jailed Reporters
"Reuters reporters Wa Lone and Kyaw Soe Oo remain in prison in Myanmar nearly two months after their arrest, but the story they were working on has been published, and it is an incredible piece of journalism," Pete Vernon wrote Friday for Columbia Journalism Review.
"The investigation, co-written with Simon Lewis and Antoni Slodkowski, pieces together what happened in the village of Inn Din in the days leading up to the massacre of 10 Rohingya Muslim men by Buddhist villagers, Burmese soldiers, and paramilitary police.
"Myanmar's Rakhine state has been wracked by violence over the past six months, with more than half a million Rohingya citizens fleeing the country in what the US State Department calls ethnic cleansing.
"Myanmar's government, led by Nobel Peace Prize winner Aung San Suu Kyi has claimed that any killings were in response to terrorist actions by the Rohingya, and that Muslim citizens have burned their own villages. The Reuters report marks the first time that Buddhist villagers have confessed to burning homes and killing Muslims. It also 'marks the first time soldiers and paramilitary police have been implicated by testimony from security personnel themselves.' . . ."
Ethiopia Says It Will Free Press Freedom Hero — If
"Ethiopia's attorney general ordered the release of hundreds of prisoners on Thursday, state media reported, including journalist and blogger Eskinder Nega and opposition leader Andualem Arage whose jailings drew international condemnation," Agence France-Presse reported.
Among the international figures urging Nega's release was U.S. journalist Charlayne Hunter-Gault, who wrote in 2012 of her reunion in New York with Nega's wife and her own trip to Addis Ababa to plead with Ethiopian authorities along with Rob Mahoney, deputy director of the Committee to Protect Journalists, on whose board Hunter-Gault served, and Dele Olojede, a board member on the African Media Initiative.
CPJ reported Friday that the Ethiopian government attempted to compel Nega to sign a false confession before releasing him under a presidential pardon. "Eskinder, who has spent almost seven years in jail for his work, was one of 746 prisoners due to be pardoned by President Mulatu Teshome on February 8, according to media reports," CPJ said.
"Through this deplorable behavior the Ethiopian government is undermining any goodwill it might have generated by releasing an innocent man from prison," said CPJ Africa Program Coordinator Angela Quintal. "Ethiopian authorities should immediately release Eskinder Nega without condition."
In 2012, Eskinder was awarded the prestigious PEN America's annual "Freedom to Write" prize, AFP noted.
Amnesty International: Ethiopia: Freedom for Journalist Eskinder Nega Must Lead to Freedom for All Prisoners of Conscience
Quincy Jones' 'Outrageous' Conversation Goes Viral
"Quincy Jones doesn't care what you think," Meg Dalton wrote Thursday for Columbia Journalism Review.

"At least, that was my biggest takeaway from David Marchese's recent interview with the music legend. Marchese, a contributing editor at New York magazine and Vulture.com, sat down with Jones for a wildly entertaining conversation in anticipation of his 85th birthday — plus an upcoming CBS special and a Netflix documentary — discussing everything from Ringo Starr's drum skills (or lack thereof) to supposedly (very doubtfully) dating Ivanka Trump. It's an unexpected, delightful, and outrageous conversation with someone who doesn't give a damn.
It went viral as soon as it was published. So far, over 1.5 million people have read 'In Conversation: Quincy Jones' at Vulture.
"Marchese spoke with CJR about how he prepared for the conversation with Jones, his go-to interviewing techniques, and what didn't make the published piece. . . ."
Nina Braca, Billboard: Quincy Jones' Controversial Quotes Over the Years: On Drugs, Losing His Virginity & Not Going to MJ's Funeral
Christie D'Zurilla, Los Angeles Times: Richard Pryor's daughter says he never slept with Marlon Brando; calls Quincy Jones a liar

Judge Dismisses Discrimination Case Against CNN
"A federal judge in Atlanta this week dismissed a racial discrimination case filed by a CNN employee," Rodney Ho reported Wednesday for the Atlanta Journal-Constitution.

"DeWayne Walker, an Atlanta-based manager of integrated marketing at CNN, originally filed his lawsuit more than two years ago. He claimed that he was passed over for jobs he felt he was qualified for because of his race.
"Magistrate judge Catherine Salinas ruled that of the nine positions Walker claimed were not made available to him, he was not eligible for seven of them. Another position he didn't actually apply for. 'He has not argued that it would have been futile for him to apply,' she wrote. 'As a result, Defendants are entitled to summary judgment on this failure-to-promote claim.'
"In the one position he did apply for, the white employee they did hire was demonstrably qualified and she could not find evidence that race was a factor. . . ."
Last July, U.S. District Court Judge William Duffey Jr. threw out a racial discrimination class action suit filed by current and former black CNN employees against CNN, Turner Broadcasting and New York based parent company Time Warner, saying the suit was "fraught with conclusory claims, unsupported by factual allegations sufficient to support the inferences claimed by Plaintiffs.' . . . "
Ho wrote last July, "At least three others have filed individual lawsuits against CNN over the past three years, mentioning Stanley Wilson, Ricky Blalock and Omar Butcher.
White Pittsburgh Anchor Settles Bias Suit
"A federal race discrimination lawsuit brought by former WTAE-TV anchor Wendy Bell against the station appears to have been settled, although no terms are available and the lawyers are not commenting," Torsten Ove reported Thursday for the Pittsburgh Post-Gazette.

"The parties agreed last week to dismiss the suit with prejudice, which means it can't be filed again. . . ."
Ove also wrote, "Ms. Bell sued Hearst Stations in 2016, saying she was fired for speculating in a Facebook post about the background and race of the suspects in the March 9, 2016 mass shooting in Wilkinsburg.
"She said she would not have been fired if she was black.
"Hearst had maintained that WTAE fired Ms. Bell not because of her race but because she made a 'racially charged commentary in a post on WTAE's company-sponsored Facebook page' that was 'inconsistent with the company's ethics and journalistic standards.' . . ."
Michael Smith Says Changes Muted 'SportsCenter'
"Jemele Hill left 'SportsCenter' on Feb. 2, but the show had left her and her partner months earlier," Mark W. Sanchez wrote Thursday for the New York Post.

"Michael Smith, the 'SC6' co-anchor, took a stab at his employer, accusing ESPN of 'muting' the show's personalities by retooling the program in the wake of Hill's suspension and public fight with President Trump.
"What began as an offshoot for 'His and Hers,' which was built on Hill's and Smith's repartee, was moved back into more standard 'SportsCenter' fare after ESPN changed the show's boss.
" 'There was a time we weren't even talking to each other [on air] anymore,' Smith said on James Andrew Miller's 'Origins' podcast. 'Like no more Michael and Jemele, not less, not here and there. No more Michael and Jemele talking. No more of their commentary. It's just strictly live shots and analysts. That's what pissed me off so much.
" 'I'm like, so wait a second, you all acknowledge that one of the strengths that we have going for us as a show is Michael and Jemele's chemistry, but Michael and Jemele don't f–king talk to each other? How does that make sense?' . . ."
Blacks Apply for Chicago P.D., but Not Hired
"Despite a successful push in 2016 to attract more black applicants to the police force, the Chicago Police Department has hired relatively few African-Americans," Kevin Stark and Darnell Little reported Feb. 2 for the Chicago Reporter. Their story was produced in collaboration with Univision Chicago, and made available in English and Spanish.
"In 2017, the police department hired whites and Latinos at rates more than double that of African-Americans, who made up just 17 percent of the total 1,126 new hires," Stark and Litttle continued. For Univision, the angle for the story, written by Adriana Cardona Maguigad, was, "More Hispanics make it through the CPD hiring process but African Americans are falling behind."
Stark and Little wrote, "It's not that blacks shy away from seeking police jobs. A Chicago Reporter examination of police hiring data going back to 2013 — the most complete recruitment records available — shows that many African-Americans have applied to the force in recent years. They just haven't been hired, hurting efforts to further diversify the department as it struggles to improve its relationship with black communities.
"Of more than 8,000 black applicants, nearly 30 percent didn't show up for the written entrance exam, the first step in the recruitment process, while 17 percent failed the test, according to data analyzed by the Reporter. Many applicants who passed the test later dropped out of the process, which includes an extensive background check and physical, psychological and drug tests.
"In some policing circles, the prevailing sentiment has been that few African-Americans were interested in joining the force. But the five-year data indicate a different story: When it comes to cultivating black candidates, the issue may be retention, not recruitment, in a multistep process that can take years. . . ."
How a Police Department Institutionalizes Racism
From 2013 to 2017, members of the Columbus, Ohio, Division of Police "fatally shot 28 people, according to Mapping Police Violence. Twenty-one of them were black . . ., " Alli Maloney reported Wednesday for Pacific Standard.
"Every time a Columbus police officer kills a citizen, two sides to the story exist. But aggressive behavior by officers often goes unchecked by the department — which is backed by a powerful police union — and decades of non-indictments from the prosecutor's office for those who kill shows how, in Ohio's [capital], the victim's families are often silenced and officers' perspective becomes the main narrative.
"The CPD has operated this way for decades — a narrative not dissimilar to other police departments across the country. But how does that sort of aggression, that deep-seated racism, become institutionalized into an organization? A closer examination of CPD history details a pattern and practice of brutal racist behavior that has gone long unrectified by department superiors, cowardly city leadership, and the Department of Justice (DOJ). . . ."
Editorial, Kansas City Star: Why won't KC-area police release the names of officers involved in shootings?
Adam Johnson, Fairness & Accuracy In Reporting: 6 Elements of Police Spin: An Object Lesson in Copspeak (Jan. 30)
Ed McKenna, Seattle Times: A judge explains why jury diversity is a work in progress (Feb. 2)
Canadian Media Heed Suggestions on Native People
"In its final report in 2015, the Truth and Reconciliation Commission called on Canada's journalism schools to provide more education on Aboriginal history, residential schools, treaties and rights," Douglas Quan wrote Wednesday for Canada's National Post, examining accusations of racial bias in coverage and prosecutions of two high-profile murder trial involving Indians.
Lisa Taylor, a journalism professor at Ryerson University, "said schools, including Ryerson, have responded by introducing lectures in their reporting courses that cover Indigenous people and issues. She said she has observed newsrooms putting out more enterprising stories that go beyond stereotypes and caricatures — stories that focus on 'change makers' as opposed to hapless victims.
"They've also adopted more inclusive hiring practices and are now engaging in partnerships with Indigenous communities to tell their stories.
" 'Non-Indigenous journalists often understand very little of the communities they're seeking to cover,' she said."
Short Takes
"Mental illness led her on a downward trek, but it didn't keep her down," Shelby Brown reported Wednesday for WTVR-TV in Richmond, Va. "These days former TV news reporter Lauren Hope is making sure she has a seat at the table when it comes to advocating for others with mental health issues. She started this week at the General Assembly, eager to share her story with lawmakers. . . ."
"Due to what they say is a lack of judicial and procedural guarantees, four prominent Venezuelan journalists who were criminally sued for continued aggravated defamation and aggravated injury (injuria), chose to leave Venezuela, according to the statement they sent to the national and foreign press," Paola Nalvarte reported Wednesday for the Knight Center for Journalism in the Americas. " 'One of the things that forced us to leave (Venezuela) is that they told us that we had no chance of winning the trial. The judge in charge of the case never found in favor of someone other than the government, and we know that from our investigations and the database we have,' " Armando.info journalist and co-founder Alfredo Meza told the Knight Center. . . ."
"The last of three television stations shut down by the Kenyan government last week resumed transmission on Thursday, the channel, Citizen TV, said on its Twitter feed," Reuters reported. "Authorities shut three private stations nine days ago after they planned to live-stream the symbolic presidential inauguration of opposition leader Raila Odinga. A court ordered them to be allowed to resume transmissions a week ago, and the two other stations resumed broadcasting on Monday. . . ."
---
Support Journal-isms Go Fund Me page.
Richard Prince's Journal-isms originates from Washington. It began in print before most of us knew what the internet was, and it would like to be referred to as a "column." Any views expressed in the column are those of the person or organization quoted and not those of any other entity.
Send tips, comments and concerns to Richard Prince at journal-isms-owner@yahoogroups.com.

Follow Richard Prince on Twitter.
Like "Richard Prince's Journal-isms" on Facebook.
Journal-isms is originally published on journal-isms.com. Reprinted on The Root by permission.