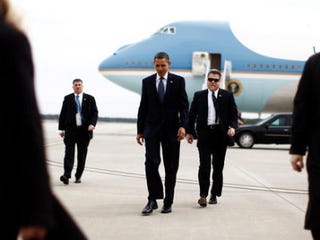 President Obama's poll numbers are sliding as rising gas prices and fear of a war with Iran and conflict in Afghanistan have shrunk Americans' confidence in him, according to a new CBS/New York Times telephone poll conducted from March 7 to 11.
Despite the extended Republican primary and strong job growth, only 41 percent of Americans now approve of the job he is doing; 47 percent currently disapprove of his performance. The drop is a striking one from the 50 percent approval rating the president had last month. Obama's support has also decreased among groups that have supported him over Republicans, such as independents, moderates, college graduates and younger voters.
Two of the main issues affecting voters are higher gas prices and a potential war with Iran. Fifty-four percent of respondents believe that Obama can have an effect on gas prices, as opposed to 36 percent who believe that he cannot control gas prices. His approval rating on foreign affairs has dropped from 50 percent to 40 percent, although 58 percent of respondents said that they felt confident about his ability as commander in chief.
There were other positives in the poll for President Obama, with 49 percent of independents saying that they favored him, compared with 41 percent for Romney. Obama leads Santorum by 10 points among independents. The president's edge among independents is largely due to women. Independent men split closely between Obama and the leading Republican candidates, but independent women said that they preferred the president by double digits.
Read more at the New York Times.