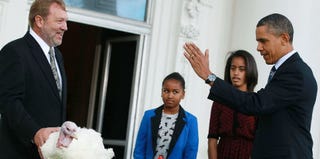 THE WHITE HOUSE
Office of the Press Secretary
FOR IMMEDIATE RELEASE

DAILY GUIDANCE AND PRESS SCHEDULE FOR
WEDNESDAY, NOVEMBER 21, 2012


In the morning, the President will return to Washington, DC. The arrival on the South Lawn is open press.

In the afternoon, the President will pardon the National Thanksgiving Turkey in a ceremony in the Rose Garden. This ceremony is open press.

Later in the afternoon, the First Family will participate in a service event in the Washington, DC area. There will be in-town travel pool coverage.