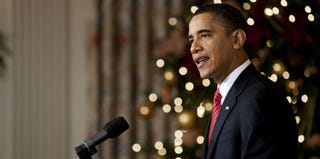 THE WHITE HOUSE
Office of the Press Secretary
FOR IMMEDIATE RELEASE
DAILY GUIDANCE AND PRESS SCHEDULE FOR
THURSDAY, DECEMBER 6, 2012
In the morning, the President and the Vice President will receive the Presidential Daily Briefing in the Oval Office. This meeting is closed press.
UPDATED:
In the afternoon, the President will visit the home of a middle class family in Northern Virginia to discuss the importance of extending income tax cuts for 98 percent of Americans and 97 percent of small businesses. In response to the #My2K social media campaign, a member of this family shared her story about how paying $2,200 more in taxes next year, if Congress doesn't act, would impact them. This family's story is just one of over 100,000 we've received on Whitehouse.gov. More than 260,000 people have also spoken out on this issue using the hashtag #My2K. There will be in-town travel pool coverage of the President's visit.
In the evening, the First Family will attend the National Christmas Tree Lighting on the Ellipse. The President will deliver remarks. This event is open press, but the deadline to request credentials has passed.