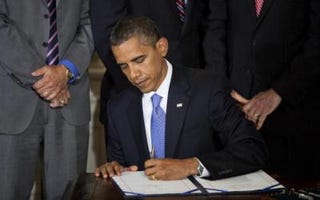 THE WHITE HOUSE
Office of the Press Secretary
FOR IMMEDIATE RELEASE

DAILY GUIDANCE AND PRESS SCHEDULE FOR
WEDNESDAY, APRIL 4, 2012

In the morning, the President will host an Easter Prayer Breakfast at the White House, as he has done in previous years. Christian leaders from across the country will join the President at this breakfast for a time of prayer, reflection, and celebration of Easter. The Vice President will also deliver remarks. This event in the East Room will be pooled press.

Also in the morning, the President and the Vice President will receive the Presidential Daily Briefing in the Oval Office. The President will then meet with senior advisors in the Oval Office. These meetings are closed press.

Later, the President will sign the Stop Trading on Congressional Knowledge (STOCK) Act, which makes clear that Members of Congress are subject to the same insider trading laws that apply to everyone else. This was legislation the President called on Congress to pass in his 2012 State of the Union Address. The Vice President will also attend. This event in South Court Auditorium is open press.

Like The Root on Facebook. Follow us on Twitter.