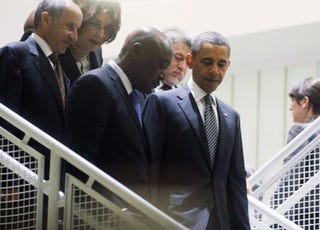 Scott Wilson of the Washington Post is reporting that President Barack Obama will address the United Nations General Assembly today. In his address, President Obama will tackle a diplomatic quagmire, like squaring up his hopes of last year for Palestinian statehood with his opposition this year to a Palestinian bid for statehood.
Wilson reports, "Obama will specifically address, his advisers say, the lack of progress in resolving the Israeli-Palestinian conflict, an issue he made a priority on taking office. Obama will seek to draw a distinction between his support for Palestinian statehood and his opposition to pursuing that goal through the United Nations."
President Obama will have to satisfy those who are suspicious of his intentions toward Israel and his push for self-governance in Palestine but not in other regions.
We think more is being made of this diplomatic issue than necessary. President Obama has not wavered in wanting Palestinian statehood; he would prefer a different path to that goal. That's why it is called diplomacy. As for satisfying folks who are suspicious of his intentions, he's never going to be able to fix that, so he shouldn't worry about it. He should move forward with proposing a resolution that works best for all parties involved, including the United States. Like it or not, we are involved.
Read more at the Washington Post.
In other news: Troy Davis Wants Polygraph Test.