The arrangement could be a win-win, The Root's contributing editor David Swerdlick writes at the New York Daily News.
President Obama needs a new Treasury Secretary. Mitt Romney needs a job. And when current Secretary Tim Geithner steps down — as he's indicated — before the start of Obama's second term, the President ought to give Romney a look for the position. If they're both willing to move past the rancor of 2012, it could be a win-win for both men and the country as the administration heads into 2013 with a full plate of issues.
 
It might sound like a crazy idea, but after last night's gracious concession and victory speeches, they've both left the door open, and it would be the ultimate bipartisan move.
 
Romney set the tone by telling his supporters that he would "pray that the President will be successful in guiding our nation," with Obama paying homage to the Romney family "From George to Lenore to their son Mitt" who, he said, "has chosen to give back to America through public service and that is the legacy that we honor and applaud," before adding, "I also look forward to sitting down with Gov. Romney to talk about where we can work together to move this country forward."
 
And they should put that meeting on the calendar.
 
The book on Obama — although I don't think it's deserved — is that he can't work across the aisle. Bringing Romney into his "team of rivals" — as he did with Hillary Clinton — would be the most visible way to signal he wants to strike a new tone in his 2nd term.
Read David Swerdlick's entire piece at the New York Daily News.
Editor's note: The headline of this piece has been corrected to read "treasury" rather than "transportation" secretary.
The Root aims to foster and advance conversations about issues relevant to the black Diaspora by presenting a variety of opinions from all perspectives, whether or not those opinions are shared by our editorial staff.
David Swerdlick is an associate editor at The Root. Follow him on Twitter. 
G/O Media may get a commission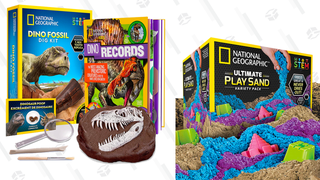 Up to 33% off
National Geographic Science and Activity Kits