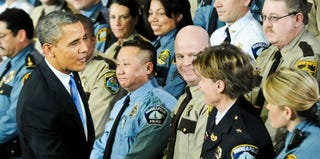 Obama presses case for gun measures: "The only way we can reduce gun violence in this country is if the American people decide it's important," the president said to a group of police officers and sheriff's deputies at the Minneapolis Police Department Special Operations Center on Monday. He was there to press his case for tougher gun laws.
Beyoncé insults the rest of Destiny's Child again? Slate's Julia Turner says that the biggest star of the reunited threesome "chose to be stingy about sharing the spotlight with her former fellow Children" during their Super Bowl halftime show.
Kevin Merida named Washington Post managing editor: It was announced today that Kevin Merida will be the paper's new managing editor, making the 20-year Washington Post veteran the highest0-ranking African-American journalist in the title's history.
Blacks on the brink of greatness: BET predicts that these 28 up-and-comers will be household names before you know it. Check them out.