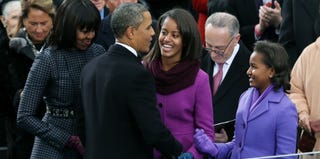 At the annual National Prayer Breakfast, the president typically delivers an address on how religion and spirituality shape his life and American culture. At the event Thursday morning in Washington, D.C., he opened his remarks with informal and personal comments responding to a previous speaker's praise of images of his family on Inauguration Day.
"My daughters are gorgeous," he agreed, "because my wife is gorgeous." (Clearly, last year's "Should Obama Have Called His Daughters Beautiful?" debate didn't slow down his praise for Sasha, Malia or the first lady.)
The annual National Prayer Breakfast is happening this morning at the Hilton Washington International Ballroom in Washington, D.C. The annual event, first established by President Eisenhower in 1953, gathers a bipartisan group of political and religious leaders, as well as a diverse group of activists, to pray for America. Although the event is inclusive of many faiths, it is hosted by a Christian organization and calls for leaders to gather "to come together under the leadership example of Jesus."
Read more and watch the rest of the address at the Washington Post.