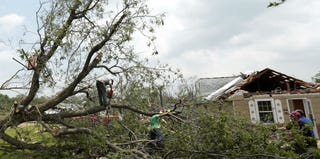 Updated Tuesday, May 21, 9:58 a.m. EDT: After originally saying that 51 people had been killed in Monday's tornadoes and that the number of dead might top 90, a spokeswoman for the state medical examiner's office now says that the official death toll is 24, NPR reports.
Earlier: 
After massive tornadoes hit the Oklahoma suburbs yesterday, killing dozens and destroying entire neighborhoods, President Obama declared a major disaster in the state, ordering federal aid to supplement state and local recovery efforts.
Those whose homes were harmed or ruined by the disaster will be eligible  for federal grants for temporary housing and home repairs, low-cost loans to cover uninsured property losses and other programs, the Huffington Post reports. 
As of 8 a.m. Tuesday, the official death toll from the tornado was 51 and at least 85 patients, including children, were being treated at a local hospital. Officials said that they expected the death toll to rise. 
Read more at the Huffington Post and NPR.