For 23-year-old Jazmine Headley, it should have been a fairly straightforward errand.

Last Friday, Headley went to a Brooklyn Human Resources Administration building to ask for daycare vouchers for her 1-year-old son—a task that devolved into a brutal tug-of-war between her and at least four NYPD officers, who tried to wrestle her baby from her arms.
The incident—and Headley's subsequent arrest—drew outrage from witnesses at the HRA building, who filmed the officers attempting to yank her son from her arms as she screamed and begged them to let go.
Now, a spokesperson for the NYPD, calling the video "troubling," says law enforcement is investigating the matter.
According to WABC, who spoke to Headley's mother, Jacqueline Jenkins, Headley went to the HRA building because she needed daycare vouchers so she could work as a cleaner. Because the office was crowded and there were no available chairs, Headley opted to sit down on the floor as she waited.

G/O Media may get a commission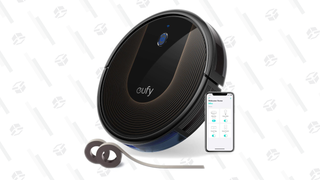 48% Off
Eufy BoostIQ RoboVac
But doing so allegedly sparked an argument between Headley and security, who ordered her to stand. After Headley refused, a supervisor, and then the police, were called.
In videos of the incident that went viral over the weekend, at least four NYPD officers can be seen violently tugging at Headley's child as she lays on the floor, attempting to protect him.
Headley can be heard screaming on the video, "They're hurting my son! They're hurting my son!"
Later, after an officer yanks the child away from Headley, the cop then waves a yellow stun gun at the angry crowd that has gathered around them, the New York Times reports.
Nyashia Ferguson, who filmed the incident, described law enforcement as "harassing" and "bothering" Headley.

"Everyone...was like 'leave the girl alone, she's not bothering anyone, just sitting there like all day,' they kept harassing her," Ferguson told ABC.
Ferguson also said Headley was not blocking any doors or passageways, which contradicts the NYPD's version of events.
In a statement emailed to Politico, NYPD Sgt. Jessica McRorie said as NYPD officers "were attempting to convince the woman to depart the facility, HRA peace officers brought the woman to the floor."
"NYPD officers then attempted to place her under arrest. She refused to comply with officers' orders, and was then taken into custody," McRorie added.
"Video images of the incident in the 84th precinct are troubling, and the event is under review by the NYPD and HRA Police," she said.
The video is gut-wrenching, as is the fact that Headley is currently behind bars, having been charged with resisting arrest, obstruction, trespassing, and harming her own child, according to ABC. She's expected to be in jail until her court hearing on Thursday—until then, she's been unable to work or get the voucher she needed to care for her son.
It's this context—a black mother brutalized and criminalized by the very institution she was seeking help from—that makes this incident not just terrible but sadly representative of the disdain with which American institutions treat women, and people of color, and the poor. These groups are lambasted by public figures and offered up as convenient talking points, yet when they try to play by the government's rules, they somehow find themselves manhandled and humiliated for simply being in the way.
Activists and social justice advocates, as well as some public officials, have called for the charges against Headley to be dropped.
According to the New York Times, State Attorney General-elect Tish James demanded on Sunday evening that the officers involved in Headley's arrest be placed on desk duty as the NYPD proceeds with its investigation.
"Being poor is not a crime. The actions of the NYPD in this video are appalling and contemptible," she said, calling for a full investigation to be conducted "immediately" and the results made public.
"No mother should have to experience the trauma and humiliation we all witnessed in this video," she said.
Meanwhile, the Brooklyn District Attorney's office says they're conducting their own investigation into Headley's "troubling case," adding that they didn't request any bail for the young mother.
"Ms. Headley's hold is in connection with a warrant from New Jersey," read the statement, which was tweeted out by Brooklyn District Attorney Eric Gonzalez. "We are reaching out to authorities in that state to expedite her release."