When a black girl is seen—truly seen—its effect lingers on my skin like the warmest hug.
With her feature film debut, Numa Perrier presents Jezebel, a strikingly beautiful coming-of-age exploration serving as a love story to the free agency of a black girl's sexuality. Written and directed by Perrier, Jezebel also introduces us to the talents of the sublime Tiffany Tenille, a young tour-de-force to watch. In her vulnerably seductive portrayal of Tiffany/Jezebel, a star is not only born; she has risen.
Per the film's IMDb page:
In the last days of her mother's life, 19 year old Tiffany crashes with five family members in a Las Vegas studio apartment. In order to make ends meet, her older sister, a phone sex operator, introduces her to the world of internet fetish cam girls. Tiffany becomes popular as the only "live black model" at the new adult site and soon becomes too close to one of her frequent callers. Dynamics shift in the sister relationship as each woman explores and exploits their sexuality, using their created fantasy worlds as an escape from the realities of their challenging real life circumstances. This bizarre coming of age story depicts sisterhood in a most unusual way.
As for Perrier, she has been on my (and The Root's) radar for quite some time, since the origin days of Black & Sexy TV. The insanely talented creator is many things: writer, director, actor, mogul, and mother (her daughter even appears in the film!), to name a few. She is magic.
Jezebel initially began as a short script and was developed through Tribeca's Film Institute, via their Through Her Lens women directors program. After launching her crowdfunding campaign, Perrier quickly realized just how hungry people were for a story like hers. The support was large and vast—from fans to curious film lovers to industry heads (Ava! Solange!) alike—and everyone appeared eager to ingest what Perrier was serving.
G/O Media may get a commission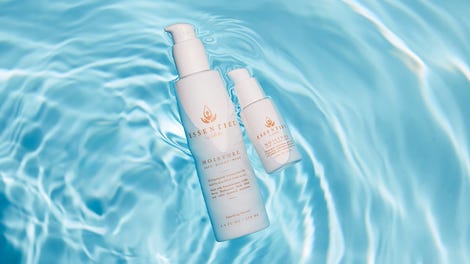 20% off
Essentiel by Adele
It was the top of the year when I saw Perrier's announcement that Jezebel would making its world premiere at SXSW 2019 in Austin, Texas. I was thrilled, since I'd be there covering its opening film, Us, and equally excited to also be present to see Perrier's much-anticipated indie film debut on the big screen.
Immediately following the world premiere screening, I knew I had to speak with the black women who created such a phenomenally told story. Perrier, Tenille and one of the film's producers, Winter Dunn, were thrilled to give me and The Root's audience further insight into one of the most gorgeous films (aesthetically and emotionally) I've ever seen.

One of the major things to note about Jezebel is that it is not only a story, it is Perrier's story. Essentially, it is the love story of Perrier and her older sister.
"This is 15-plus years ago for us, and we had never talked about that time in our lives," Perrier recalled. "Once we moved on, [and we both] left Las Vegas, we were busy carving out what we really wanted our lives to be, kind of tucking away that pain of a time [that] we [then] felt was a block on our existence.
"And so, I did some writing on it. I had about 15 pages that I had tucked away in a drawer. I had a couple of people read it; they were like, 'This doesn't really do anything for me' and I actually listened to them. I think I partly used them as an excuse to not keep going with it, because I just wasn't ready at that time. So, I just did all of the other work that you know about—a lot of short film work, experimented, and did a lot in the visual arts space. But, it was always nagging me in the back of my head that I should revisit that script, [as] it would make a good story. As I grew into more of a woman [and] became a mother, the things that I thought were shameful about that time in my life became the opposite. I connected the dots [and realized] that's a valuable piece of who I am and that time of my life is a valuable experience."
Valuable, indeed.
"I'd never read anything like this [script]," said Dunn, recounting when Perrier first shared the script with her. "This subject matter and the way she's able to tell it. It feels so human, but the circumstances that we're playing with are not everyone's life, you know? It's written in a way that only Numa could."
I laughed, I teared up, and I fell in love with the stunning colors on screen as they kissed the vibrant skin of leading lady Tenille, a true ingenue. And as such, fell in love with her.

The Merriam-Webster dictionary describes a "Jezebel" as:
1 : the Phoenician wife of Ahab who according to the account in I and II Kings pressed the cult of Baal on the Israelite kingdom but was finally killed in accordance with Elijah's prophecy. 2 often not capitalized : an impudent, shameless, or morally unrestrained woman.
Add "black" to that, and you have a suffocating and exploitative trope choking little black girls throughout the years, following them into adulthood. Jezebel puts that archaic term down, flips and reverses it into a transformative blossoming, in an empowering showcase of discovering and reclaiming one's sexual identity. The moment Tiffany undergoes her metamorphosis into Jezebel is as iconic as any other classic coming-of-age film scene. It's a sequence I'll never forget.
"[By portraying Tiffany/Jezebel], I learned to just really stand in my power, have a presence, not be intimidated by anyone, especially other races—the most dominant race, wink wink—not to be afraid of anyone," the exuberant Tenille told me on the phone. "I used to just hide and bow my head and I'm just not doing that anymore."
"I really related to [the character] Tiffany's real interest in sex," said Dunn. "There's a phone sex moment [where Numa portrays Tiffany's older sister, Sabrina]—just seeing the way Numa directed Tiffany's response to not be like 'ewww' or cowering away, but she's actually leaning in and [curious about what's happening]."
I have been on sets as both a director and other miscellaneous roles in the crew and have learned, firsthand, the importance of creating a safe space for everyone involved. Particularly, it is important for a director and actor to maintain a trusting relationship in order to encourage the best and most authentic performance—and especially key when creating a narrative centered around something as intimate as a young girl exploring her sexuality. Both Tenille and Dunn raved about Perrier and the sacred space she maintained on a set that was not only emotionally intimate, but physically, as well. The majority of the settings were quite contained and cramped.

Tenille shared a particularly visceral moment during production that I loved, in which she was filming a vulnerable and exposed scene, which she wasn't initially feeling completely comfortable with. In what I could only describe as a "blood brother" pact among black sisters, Perrier and Dunn exposed themselves along with Tenille, so that they were all in their most vulnerable states together. They were naked, in every since of the word. It was truly a pristine example of sisterhood.
"That was their way of taking care of me like, 'It's okay, Tiffany,'" Tenille remarked.

In the midst of its emotionally-wrought themes, Jezebel was also hilarious as fuck, which only added to its endearing qualities. As an audience member, you couldn't help but resonate in some way, even if you've never lived in the sexy shoes of a webcam vixen.
Look, SXSW can be pretty damn white, but the fact every single screening sold out (plus, an added bonus screening!) truly speaks to the fact that black-led narratives can be universal, as well. Don't get it twisted: Jezebel never dilutes its blackness—there's even a big forehead joke—proving that leaning into the specifics is actually a surefire way to authentically speak to larger audiences.
"I hope people are empowered by this sensuality and sexuality ... I just want them to celebrate their sexuality and not be afraid of it," said Tenille.
"It's a love story between sisters," said Perrier. "And it may be an unusual one, but that's really what I want people to carry in their hearts—it's a love story between two sisters and this is one of many stories of black women who live in the underbellies of cities and small towns all across our nation. Stories that have yet to be uncovered, have yet to be told. And this one has been told now."
It is, and it's one I hope to see told to larger audiences. As in, I am sitting on the edge of my seat, awaiting distribution news. "We're having conversations," Perrier confirmed, assuring that she'll keep us updated.
Jezebel needs to be seen. Black girls need to be seen. We are—and we will be.