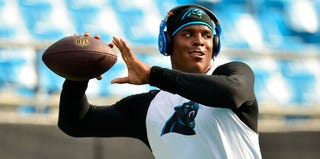 Excerpt (Frank Deford):
A desperately favorite NCAA punishment is to require the offending college to forfeit the games it won sometime in its dark past. Oh, that smarts. That really scares cheaters. Changing old record books is like telling you that the vacation you had in Jamaica four years ago, when you were drinking rum, playing golf and swimming with a beautiful woman in the moonlight, really wasn't any fun. That's what makes this week's accusations involving Cam Newton, the Auburn University star, so much more meaningful. The charges are current and namely allege that someone purporting to represent Newton demanded $180,000 for him to enroll at Mississippi State University.

To its credit, Mississippi State reported the matter, and to be fair to both Newton and Auburn, there is no evidence that the would-be broker was authorized to act or that Auburn subsequently anted up. Withal, the most illuminating tidbit in the whole saga is that Newton's father, a preacher, says he didn't want his son to go to Mississippi State because there he would be, "a rented mule."

Well, that's the best definition of college athletes I've heard.
Everybody makes real money –– some real big money –– except the athletes, except the mules, the Cam Newtons. They're not allowed to be represented by reputable agents, so of course, mountebanks come out of the woodwork. They're not allowed to be paid, so of course money will slip under the table. But the NCAA, in delusion, persists in trying to continue to prop up the failed concept of 19th-century amateurism.
Read more at NPR.org.