Voices seem to be split on Mo'nique and her ask for us to quit Netflix because of what she calls its "gender and color bias." She made the claim after the company offered her a paltry $500,000 for a comedy special, even though she's an Oscar-winning actress with more than 18 years in the comedy game, while giving other women and black comedians (Amy Schumer, Dave Chappelle, Chris Rock) $11 million, $20 million and $22 million respectively—a big pay disparity.
The actress recently took to Instagram and said the following:
I am asking that you stand with me and boycott Netflix for gender bias and color bias. I was offered a $500,000 deal last week to do a comedy special. However, Amy Schumer was offered $11 million; Chris Rock and Dave Chappelle, $20 million. Then Amy Schumer went back and renegotiated 2 more million dollars because she said, "I shouldn't get what the men are getting; they're legends. However, I should get more," and Netflix agreed.
The blogger and cultural critic Son of Baldwin (born Robert Jones Jr.) offered compelling reasons for supporting the actress, including the fact that she's been a longtime truth teller about Hollywood's fuck shit, as well as respectability politics, colorism and anti-fat bias in our community:
So telling the truth is a bad thing now? Mo'NIque has been calling out all the hypocritical, misogynoiristic, white supremacist, patriarchal shit in the industry, on her own behalf and on the behalf of others, and folks think she "rightfully" should be punished for it?"
...

Why do people find just supporting Mo'Nique so fucking HARD?

P.S. And don't think I don't peep the discrepancies and excuses being used to understand #TraceeEllisRoss' protest and shit on #MoNique's.#Colorism #Sizeism #Fatantagonism #RespectabilityPolitics
G/O Media may get a commission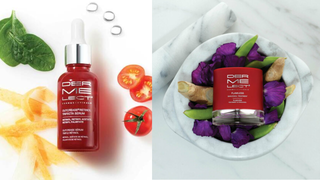 Save $19
Retinol Renewal Kit
But Chris Rock's brother Tony Rock predictably echoed the other side of the coin, telling TMZ that the comedian (the Academy Award-winning comedian, that is) should "get [her] weight up."
"You get your check to say what you want your check to say," he said.

Say what?
What say you?
Do we support Tracee Ellis Ross because of how she looks and the fact that she "plays the game"?
Is Mo'Nique too fat, black and flagrant to be supported?
Is Netflix too good to give up???