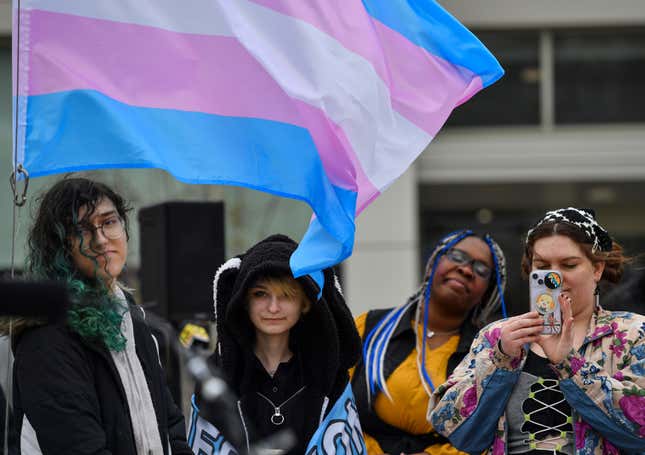 The war against transgender youth in the United States has taken another disturbing turn. On Friday, Republican legislators in Kansas approved a plan to end gender-affirming care for transgender youth. The move comes amid a year of unprecedented legislative attacks on trans youth.
Another Anti-Trans Policy Forced Virginia Students to Walk Out in Droves
The bill would require the state's medical board to "revoke the license of a physician" who provided gender-affirming care to a minor. It would also allow any adult who received gender-affirming care as a minor to bring a civil case against the physician who assisted them under this law.
It's all pretty dystopian, but the good news is that it's unlikely to pass the governor's office. Kansas Democratic Governor Laura Kelly has previously stated that she would veto any measures "that aims to harm or discriminate against you." The bill does not appear to have enough votes to pass the two-thirds threshold needed to override a veto.
That doesn't mean the threat against transgender youth isn't very real. Earlier this week, Kansas Republicans got enough votes to pass a veto-proof ban on transgender athletes.
And nation-wide, the attacks are equally troubling. Roughly 27 percent of transgender youth live in states that have passed bans on gender-affirming care, according to the Human Rights Campaign. And nearly half of all transgender youth live in a state where they have either lost access or are at risk of losing access to gender-affirming care.
Access to gender-affirming care can be a life-or-death issue for transgender youth. Research has shown that gender-affirming care can lowers rates of "adverse mental health outcomes, build self-esteem, and improve overall quality of life for transgender and gender-diverse youth."
Affirming care can be especially important for Black transgender and non-binary youth, who suffer from discrimination on the basis of race and gender and are more likely to attempt suicide than their white peers.
Roughly 25 percent of Black transgender and non-binary youth reported attempting suicide in the last year, according to a survey from the Trevor Project. According to the survey, 77 percent of these youth experienced discrimination based on their sexuality and gender identity. And 68 percent said they faced attempts from others to change their sexual or gender identity.
Transgender youth across the country have shown tremendous courage by fighting back against the wave of anti-trans legislation coming down the pipeline. But as the results in Kansas illustrate, it will take everyone to push back against this onslaught.