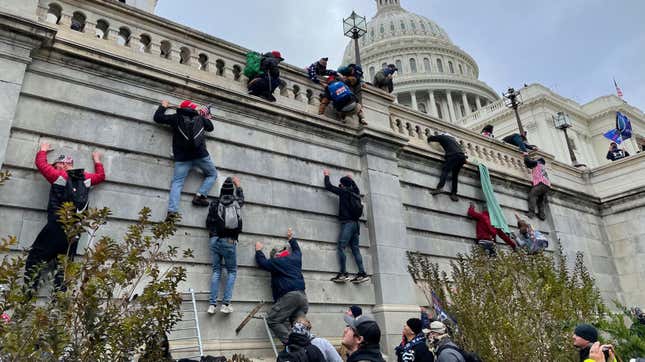 Donald Trump is not only the first former president to have been charged with a federal crime stemming from his actions in office, he could also be the first one in history to be held accountable for attempting to victimize Black people. The crimes alleged in the 45-page indictment against the ex-president handed down yesterday don't specifically mention race, they are a road map for Trump and his allies' plans to flip the vote in states where Black voters were key to the outcome of the 2020 presidential election.
Can Donald Trump Serve As President From Prison?
It was in Georgia, Pennsylvania, Michigan and elsewhere Black voters held sway, where Trump focused his efforts, not only perpetuating the lie that he'd actually won, engaged in an alleged conspiracy to defraud those same voters which prosecutors say rose to the level of criminal culpability. And almost as if in a nod to the underlying racial implications of Trump's alleged scheme, prosecutors charged him under a statute that was originally intended to target the Ku Klux Klan. Section 241 of Title 18 of the U.S. Code makes it illegal to "conspire to injure, oppress, threaten, or intimidate any person" exercising a right that is protected by the Constitution.
It's worth noting that there's a clear distinction between Trump's tactics and those of the Klan from a century ago. The hate group did everything in their power to keep newly freed Black people from voting, but their methods were underpinned by terrorist violence like bombings and lynching. Trump is accused of using rhetoric, the courts and the levers of government itself to accomplish the same goal. Prosecutors believe that the law should apply all the same.
Trump's indictment alleges that he took part in a "conspiracy against the right to vote and to have one's vote counted." This accusation is in direct violation of Section 241. Furthermore, Trump is also being accused of pursuing "unlawful means of discounting legitimate votes and subverting the election results." In 2020, President Biden received the Black vote strongly across the entire country.
However, Trump and his allies targeted ballots in those states—specifically the cities that had substantial Black populations—in an attempt to retain power. Though they claimed the lawsuits against those places weren't racially motivated, Trump's camp never presented any real evidence that showed these votes were invalid.
Black people were denied the ability to vote for centuries and Trump's plan to erase our political power wasn't just obvious—it was downright illegal. Violations of Section 241 are classified as felonies that are punishable by up to 10 years in prison or longer. Trump has boasted white supremacist ideology his entire career, so him being charged with a KKK law is fitting.