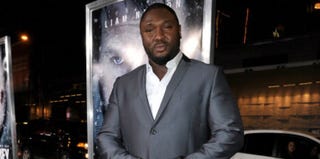 (The Root) — British actor Nonso Anozie, who had a breakout performance as Xaro Xhoan Daxos in HBO's critically acclaimed series Game of Thrones, is set to appear as Samson in the 10-part miniseries The Bible, airing on the History Channel beginning on March 3. The series, which updates the Scriptures with a more diverse cast and CGI effects, was produced by husband-and-wife team Mark Burnett (The Voice, Survivor, The Apprentice) and Roma Downey (Touched by an Angel).
Anozie gave us the lowdown on how he got the role and what it was like working on the series.
On how he got the part of Samson:
It's funny, you know how people say divine intervention? I go to church regularly, and my pastor gives me passages to read to the congregation, and I do that quite regularly. So January of last year, he gave me a piece about Samson — about how God had given you a blessing and how you have to be careful with it. Then I got a phone call; they wanted me for another role. I said I do like the role of Samson if they haven't cast that yet. So the fact that it was the last thing I read in church really stood out to me.
On working with Downey and Burnett:
I really love how they shot the series. It was really amazing. It was really a good spirit and energy. I never met people who had such enthusiasm for what they're doing. They are just two individuals who are driven. Everything that was shot, they were there to oversee. [They were like,] "We've made good money. Let's do something we really believe in." I saw that unfolding before my eyes.
On what it was like on the set:
It was really intense. The Noah people were leaving, the Jesus people were coming. You could see everybody. There was one actor who was the most atheist, but when you see his scene, it was so amazing to watch. It was really evidence to me that I was a part of something that's meant to touch people.
On what he hopes viewers take away from the miniseries:
I hope that people are entertained, that they laugh and cry and that they're moved by it and later on feel a secondary effect: that somehow something different happens than when they watch an ordinary program. Make them closer to God if they are believers, or pick up the Bible to learn more, to have questions and have a dialogue with your pastor or other people. Either way, that's a good thing to me. Having a dialogue is the most important thing.
The Bible airs starting March 3 on the History Channel and will air each Sunday through Easter on March 31.
Julia Chance is a Brooklyn, N.Y.-based journalist and the author of Sisterfriends: Portraits of Sisterly Love. Genetta M. Adams is a contributing editor for The Root. Follow her on Twitter.