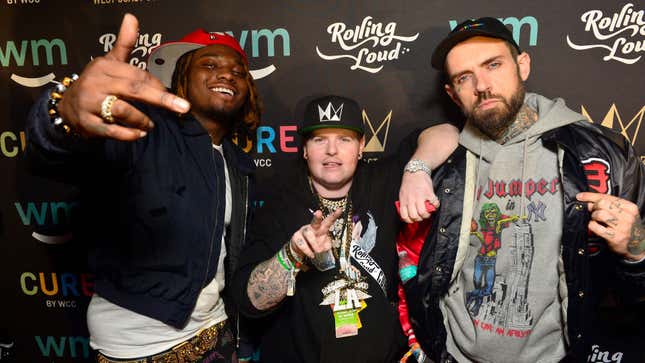 A new investigation by Media Matters for America has revealed that the podcast "No Jumper" has been using its cultural currency to platform white supremacists. That currency is due to hip hop, and when the show started, some of its guests included emcees like A$AP Ferg, Rapsody and Krayzie Bone. Its reach is large.
The Top 5 Rappers Of All Time According To Stephen A. Smith
"No Jumper" has 4.2 million YouTube subscribers, 2.1 million followers on TikTok and 1.2 million followers on Twitter. It is also available on Spotify, Apple and Soundcloud. Media Matters stated that one of the co-hosts of the show, AD (also known as Armand Douglas), quit after the podcast welcomed neo-Nazi and "Unite the Right" rally organizer Richard Spencer last month.
During Spencer's stint, Adam Grandmaison—who goes by Adam22 and is the white creator of the show—remarked: "Almost every quote that I'm seeing from you talking about your white identity or whatever is something that sounds eerily familiar to something I've heard Black people say in relatively mainstream circles in the last couple of years. A large percentage of them didn't really seem all that shocking to me."
"I'm a little disappointed," Douglas lamented. "You have a mostly Black staff. This 'No Jumper' is built off of hip-hop. What the f*ck are we doing? Why are we platforming this guy? We've got to hold everybody accountable, including Adam." Grandmaison also welcomed misogynists, Nation of Islam members (known for antisemitic and anti-LGBTQ views) as well as renowned bigot Nick Fuentes on the show last month as well.
During his appearance, Fuentes made racist comments like "Blacks get treated better than white people" and "Black people are committing the majority of violent crime." Fuentes also stated: "It's obviously true that Jews have connections everywhere, in finance, Hollywood, media, universities."
These viewpoints went unchallenged by Grandmaison, who has said in the past that he is unprepared to go against hateful views. Grandmaison has come under scrutiny for allegedly having sexual relations with underage girls, so controversy is nothing new to the host. However, he needs to be held accountable for his despicable actions and getting rid of his program is just the beginning.