How could you resist a package labeled "No Glitter, No Glory"? I flew toward those words on Lit Cosmetics' Lit Metals Metallic Pigment Kit liquid metallic eye shadow box like a moth to a flame—especially after learning that this was the same makeup used to create Oprah's look for her turn as Mrs. Which in the big-screen fantasy A Wrinkle in Time.
This water-based formulation makes it easy to use with contacts and safe for lash extensions; it's also paraben-, glycol- and alcohol-free, and its lightweight but easily buildable coverage makes it perfect for everyday wear (if you dare).
Application is an easy two-step process. First, dip the brush into the liquid adhesive and apply it to your eyelid, allowing about 30-60 seconds to dry. While it's still wet, dip the same brush into the pot of glitter—which is ground so fine it looks like a powder—and brush the glitter onto your lids.
Voilà! The effect is instant, and the gold pigment is likely what you've been looking for in a dry or cream shadow but could never find.
G/O Media may get a commission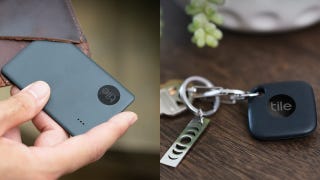 Up to 35% off
Tile Item Trackers
Personally, I felt the liquid adhesive drying and tightening a little for about 15 minutes afterward, and was aware of feeling something on my lids for about a half hour before I got used to the feeling. A few tricks: Avoid the crease of your eye—unless you have ample time to sit with your eyes closed, it's very difficult for the adhesive to dry in the fold in the lid, and it will feel sticky for long time. If it happens, just moisten a cotton swab with water and wipe it away. Also, make sure to comb your lashes out immediately afterward in case a stray sparkle goes rogue and lands in the base of your lashes.
For a more dimensional look, you can layer the adhesive and Lit Kit glitter over regular eye shadow. Another easy and quick day-to-night makeup transformation is to use the glitter as a liquid eyeliner—it takes five minutes. For golden lids, Addicted is now my go-to color, and I used Smolder for a sleek and shimmering eyeliner. Lit Kits give you glittery glamour for $28. Now it's your turn to light up the universe!