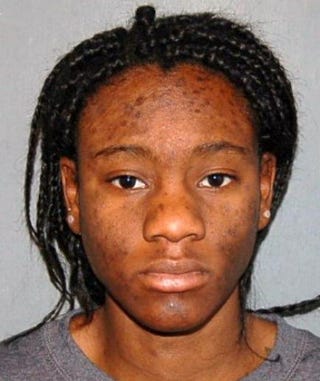 A 23-year-old New Jersey woman pleaded guilty Monday to a reduced charge of aggravated manslaughter in the death of her newborn daughter, who was set on fire in the middle of a roadway, Reuters reports. 
Hyphernkemberly Dorvilier had originally been charged with first-degree murder in the case, but as part of the plea deal, the prosecutor will recommend a 30-year prison sentence with the requirement that she serve 85 percent of the sentence. Dorvilier's sentencing hearing is set for April 22. 
Dorvilier, who is being held on $500,000 bail, is accused of pouring flammable liquid over the infant before setting her on fire and leaving her burning in the middle of a road. 
According to CBS News, the baby had third-degree burns over 60 percent of her body and died two hours after being flown to a Philadelphia hospital. The baby was found with her umbilical cord and placenta still attached. 
CBS reports that Dorvilier hid the pregnancy from her mother and her sister.