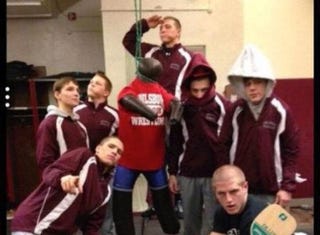 Prosecutors have decided not to press charges against wrestling-team members of New Jersey's Phillipsburg High School who posed in a picture with a black dummy in a noose, CBS New York reports.
"Based upon the evidence obtained and the concurrence of the Attorney General's Office after reviewing the investigative file, no criminal charges will be filed at this time," Warren County Prosecutor Richard Burke told the news station.
The matter is being handed back to officials at the high school, who will decide on the next course of action.
In February the eight teammates came under scrutiny after a photo of seven of them spread through the Internet. In it, they were posing with a lynched wrestling dummy dressed in the uniform of rival Paulsboro High School. Two of the boys had the hoods of their sweaters pointed up, suggestive of a Ku Klux Klan uniform. (The town of Paulsboro is about one-third black, while Phillipsburg is about 85 percent white.)
An attorney for the wrestlers said their actions were misinterpreted and the boys had not meant to offend anyone. "In outfitting the wrestling dummy, we did not give any thought to the physical appearance of the dummy as anything other than an unidentified generic wrestler," attorney Scott Wilhelm said at the time on behalf of the young men. "When we spontaneously set the scene and posed for the photograph, our sole purpose was to promote school spirit and portray our wrestling team as victor over two of our arch-rivals—Paulsboro High School and Kittatinny High School, and not for any other purpose."
Read more at CBS New York.