The NFL is in serious trouble.
As the coronavirus continues to terrorize Major League Baseball, NFL players are tripping over themselves to opt-out of the upcoming season. Thus far, over 40 players (and counting) will pass on playing this year—eight from the New England Patriots alone—so it's safe to say that NFL commissioner Roger Goodell isn't sleeping particularly well, as of late.
Team owners are reportedly shook too, as ProFootballTalk reports that teams are concerned that players are taking advantage of the league's COVID-19 opt-out clause.
From ProFootballTalk:
As one source explained it to PFT, teams are concerned that some players who think they won't make the team are choosing to opt out and to take the six-figure stipend. While players apparently would owe the money back to the teams if they fail to make the roster in 2021, no team wants to have to chase a former player around next year in an effort to retrieve $150,000 or $350,000.
Allow me to explicate.
No player is contractually obligated to play this season due to COVID-19. As such, they have the following options available to exercise their God-given right to stay their asses home:
Voluntary Opt-Out: Any player can skip the season and receive a $150,000 advance against their 2020 salary. Their 2020 salary is then bumped to the 2021 season.
High-Risk Opt-Out: This option is only available to players who medically qualify, but typically it requires having preexisting conditions (such as diabetes or hypertension) that could create complications should a player contract COVID-19. In this instance, they would receive a $350,000 stipend. The player's contract is frozen and they would receive an accrued season toward free agency.

G/O Media may get a commission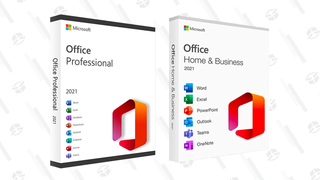 89% off
Microsoft Office Professional 2021 Lifetime License
As to be expected, this is creating complete and utter chaos around the league. And in its efforts to curtail a mass exodus, the NFL has set the deadline for its opt-out policy to Wednesday. The original deadline was supposed to be seven days after the amended CBA was ratified, but since that still hasn't been done yet, the NFL is like, "Fuck this, y'all niggas ain't going nowhere."
Players aren't exactly thrilled with being rushed to make such a major decision, especially one that directly impacts the health and safety of their immediate families, so Patriots safety Devin McCourty took it upon himself to call a thing a thing during a virtual interview with reporters.
"I think it's an absolute joke the NFL is changing the opt-out period, mainly because they don't want to see guys continue to opt-out," he said. "I think it's terrible. I think it's BS that the league changed that date. [...] When players understand how much power we have, we see things change for us."
MLB commissioner Rob Manfred admitted days before yet another round of postponements that should COVID continue to wreak havoc in Major League Baseball, he would cancel the rest of the season. But considering things will likely get worse in baseball before they ever get better—at least with a vaccine still eons away—the NFL might want to take note of MLB's struggles and cancel their season before more of its star players inevitably contract the virus.