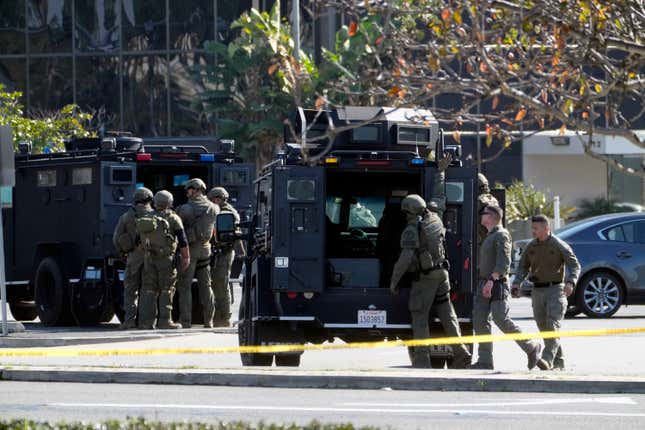 Updated 1/23/23 AT 12:39 p.m E.T:
On Sunday, Los Angeles County Sheriff Robert Luna identified Huu Can Tran as the deceased suspect in Saturday's Monterey Park shooting. He was pronounced dead due to a self-inflicted gunshot wound Sunday as police surrounded a white van in Torrance, which was identified as the getaway vehicle of the suspect.
Are Black San Franciscans Getting $5 Million Each in Reparations?
"When officers exited their patrol vehicle to contact the occupant, they heard one gunshot coming from within the van," Luna stated. "Officers retreated and requested several tactical teams to respond." Three armored vehicles blocked the van before a SWAT team found Tran dead inside, Luna explained.
Tran's motives for the shooting, which killed 10 people and injured 10 others, remains unclear.
Original Post:
An intense standoff led to armed law enforcement entering a white van that possibly contained the suspect accused of killing at least 10 people—and wounding 10 others—Saturday in Monterey Park. The suburb is located in Los Angeles.
A news conference to address the mass shooting will be held at 4:30 p.m. local time (7:30 p.m. ET) at Monterey Park City Hall. On Saturday, January 21, in Monterey Park, California, 10 people (five men and five women) were shot to death at a dance studio near a Lunar New Year celebration.
A manhunt took place to find the vehicle described at the scene of the tragedy. It led police—some of whom were in SWAT vehicles—to surround the van Sunday in a parking lot located in Torrance, California. Torrance is about a 40-minute drive from Monterey Park. Robert Luna, the L.A. County Sheriff, shared that officials didn't know the condition of the person in the van.
He explained:
"I want to address also that there is a tactical incident, that is occurring in the city of Torrance, that is being covered. People have asked, 'Is that your suspect?' We don't know. As I said earlier, today, we had a vehicle that was described as a white box van, I guess you would say, a van of interest. And there is a van that looks just like what was described to us in the city of Torrance. It is a barricaded suspect situation, we are working with one of our partner agencies in the Torrance Police Department to resolve that. We believe there is a person inside of that vehicle. We don't know what their condition is but we will handle that in the safest manner that we possibly can."
After Luna gave a statement, officers broke a window and went into the van Sunday afternoon. Officials did not confirm if they located a body inside. Speakers during the conference will include Los Angeles County Sheriff Robert G. Luna as well as Homicide Bureau Captain Andrew Meyer and Monterey Park Chief of Police Scott Wiese.