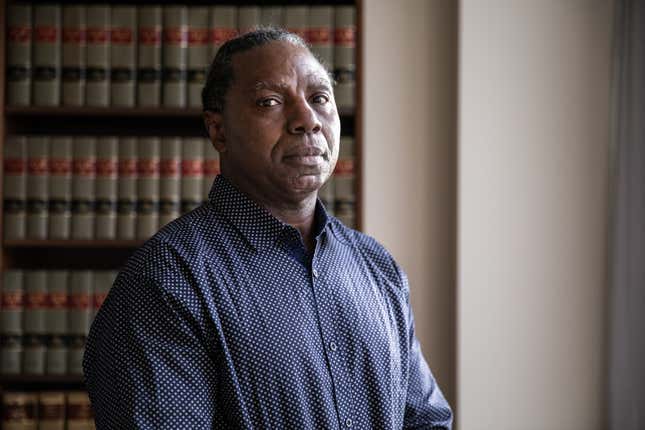 Anthony Broadwater spent 16 years of his life behind bars for a crime he didn't commit, but now he might see some semblance of restitution. On Monday, Broadwater's attorney announced that he had settled with the state of New York for $5.5 million.
Barack Obama Hosts Working: What We Do All Day, Our TV Pick This Week
"I appreciate what Attorney General James has done, and I hope and pray that others in my situation can achieve the same measure of justice. We all suffer from destroyed lives," said Broadwater, 62, in a statement relayed by his attorney to the Associated Press.
For those who don't know about the case, here's a quick synopsis: In 1981, Broadwater was convicted of raping writer Alice Sebold, who was assaulted by a stranger when she was a freshman at Syracuse University. Months after the brutal attack, Sebold spotted Broadwater, who is Black, around town. Believing he was her assailant, she called the police, who brought Broadwater into custody. Only as he would point out repeatedly, she'd gotten it wrong.
That didn't stop law enforcement from arresting Broadwater, who repeatedly proclaimed his innocence. However, the case began to unravel after Broadwater's release when he connected with attorneys David Hammond and Melissa Swartz.
As it turns out law enforcement had compiled an incredibly flimsy case against Broadwater. The case relied almost entirely on Sebold's initial identification of Broadwater and scientifically faulty hair sample comparisons.
Sebold, the author of the iconic book Lovely Bones, had even failed to identify Broadwater in a lineup. According to the New York Times an officer involved in the case had even reportedly alleged to a producer looking to adapt Sebold's story into a film, that he believed the real rapist was still out there.
In November, a judge overturned Broadwater's conviction, exonerating him of the crime that devastated his life.
For her part, Sebold says she's still untangling the role she played in Broadwater's imprisonment. "Every word I've read that Anthony Broadwater has said has made me see him as a man who, though brutalized, somehow came through it with a generous heart," she told the New York Times. "To go from thinking he was the man who raped me to believing he was an innocent victim is an earth-shattering change."
Money certainly won't undo the harm that Broadwater has suffered. But it is a first step towards New York taking accountability for the years it stole from him.