R. Kelly is facing yet another allegation of sexual misconduct, and this time, a new accuser says the R&B singer infected her with a sexually transmitted disease, as well as groomed her for his "sex cult."
According to the New York Daily News, the woman was 19 when she began seeing Kelly in June of last year. Last week, the unidentified woman filed a complaint with the Dallas Police Department and says she is preparing a federal civil complaint.
Philadelphia-based attorney S. Lee Merritt is representing the woman. Merritt said that his client ended her relationship with Kelly in February, but indicated that said relationship was marked with "several forms of criminal misconduct" by Kelly, including "unlawful restraint, furnishing alcohol and illegal drugs to a minor, and aggravated assault (per the alleged STD infection)."
The complaint also charges that Kelly was grooming the woman to join his alleged "sex cult," detailing that she was told she would have to sign a contract and reveal sensitive information about herself and her family as "collateral."
"As Kelly's predatory, controlling and abusive behavior evolved, our client abruptly ended their relationship in February of 2018," Merritt noted in the filing.
G/O Media may get a commission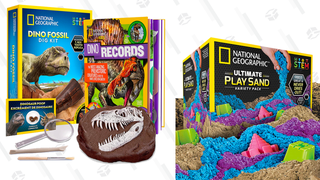 Up to 33% off
National Geographic Science and Activity Kits
The gross allegations against Kelly have torn through the news cycle since a BuzzFeed article last year with interviews from parents Timothy and Jonjelyn Savage, who said that their daughter Jocelyn was being held against her will at one of Kelly's homes.
Since then, several women have come forward with allegations against the popular singer, who seems immune to any repercussions.
As for Kelly, 51, he continues to routinely deny the claims, with a representative for the singer telling the Washington Post that Kelly "categorically denies all claims and allegations" relating to the new filing.
The woman in this case actually reached out on social media to the Savages, who praised her for going to the police. Timothy Savage called the woman "brave and courageous" for filing the complaint.
"Other girls have said it to us, but they weren't willing to speak up," Savage told the Post. "We need a witness to speak up. I hope this opens up some answers. We felt from the beginning that the reason he's holding the girls is he has some kind of STD that he couldn't cure."