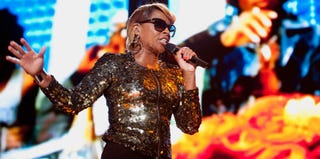 (The Root) — There was only one reason five guys journeyed to New Orleans on a Fourth of July weekend five years ago: women. Black women. All shades, shapes and sizes of ladies from all over the world were going to be in Nola for the annual Essence Music Festival.
To my four friends and me, this was a no-brainer, built-in holiday-weekend activity. Take a city as magical as New Orleans, add in what was sure to be thousands upon thousands of Essence readers (which translated to African-American women) and splash on a lineup of musical artists people wait their whole lives to see, and voilà! You have a weekend tailor-made for good times and great memories.
That was our theory the first year we went, in 2008. We continued to go back for the next four years.
I can get teary-eyed when I talk about the times I had at Essence Music Festival. Sure, my friends and I originally went for the very generous ratio of women to men, but that's not why we came back (OK, I lied), but when we would leave, the women were not all we were talking about. We also salivated about some of the food we ate and broke out in a mini two-step when a memory of a concert consumed our whole body. We couldn't wait to go back, starting from the moment we left.
Essence Music Festival, or EMF, began in 1995 and was planned as a one-time extravaganza in New Orleans to celebrate Essence magazine's 25th anniversary. Clearly, it turned out to be more than just a one-time thing. The annual event — held during Fourth of July weekend — includes concerts and a massive convention, including vendors and seminars. Now in its 19th year, the festival has featured such music superstars as Prince, Mary J. Blige, Aretha Franklin, Kanye West and Janet Jackson. This year, Beyoncé will headline EMF for the second time.
My first trip to EMF was also my first trip to New Orleans. This was three years after Hurricane Katrina, and thus it was a city still reeling and recovering from devastation, both man-made and God-sent. The night I landed, I was expecting to see some trace of that in the faces of the people, but I saw no such thing. All that met my eyes when I walked off the plane from New York City were smiling faces. They knew why we were all there, and the good people I met were more than happy to host us.
It has been like that every time I arrive, and it remains that way the whole weekend. It's like some sort of rule down there on that weekend, and the rule says if you want to attend EMF weekend, you have to wear a smile. Maybe this rule doesn't last year round, but it has been applied like the law the weekends I've been there.
Now, of course, if you're there for EMF, the best hotel is the W New Orleans (333 Poydras St.), a mere three blocks from Bourbon Street. If not there, go for the Sheraton Hotel or the J.W. Marriott Hotel, both on Canal Street. But whatever you do, a hotel in or around the French Quarter is the way to go. Take it from me, I spent one year at a bed-and-breakfast in the city's flower district, which was comfortable and close, but not on top of all the action. A local once told me that EMF attracts the third-largest gathering of people after Mardi Gras and the Super Bowl. This means that if you haven't booked a room at one of the more in-demand hotels like the W (which I might add is directly across the street from Harrah's Casino), you might end up in a bed-and-breakfast far from the excitement. That's what procrastination gets you. 
Wherever you stay, understand the bed is just extra space for you to spread out your clothes, because sleep, while an option, is not encouraged during EMF. There are things to do and people to meet — lots of things, lots of people. You won't meet them all, because you're human and not a social superhero, but you can give it your best shot, and EMF deserves your best, most well-rested shot. Sleep before you get there and sleep when you leave; while you're there, nap at most.
Now, of course, as the name of the festival implies, you have come for the music, but it won't be easy to go to all the concerts, my friend. Sure, Kanye West is going to close out opening night at the Superdome, but you have met the woman of your dreams unexpectedly outside of the Sheraton Hotel on Canal Street, and she's not going to the concert. She says she's here for the free world-class workshops at EMF's Empowerment Experience, which take place during the day at the Ernest N. Morial Convention Center. She's also here for the parties, one of which is happening at the same time Kanye is scheduled to hit the stage.
What do you do?
Don't be a dummy. You go see Kanye West. Not only is the music the reason you're there in the first place; there will be more of the second reason you're there (the women) at the Superdome who are also going to see Kanye West or Beyoncé or Janet Jackson or Chris Rock or Mary J. Blige or Maxwell. I saw all of these acts live at EMF. This year, they're bringing out Beyoncé, which for EMF, is business as usual. The parties will go on long after the final act has left the stage, and you still have two whole days of parties ahead of you.
Save the sightseeing beyond the French Quarter for another trip to the N.O. During EMF, the French Quarter is where you need to be because, plainly put, that's where the people are. Grab a bite to eat at Mother's (401 Poydras St.), where they claim to have the world's best baked ham, but I'm convinced they're just being modest. Everything at Mother's tastes like it's the world's best version of it. For example, the seafood gumbo, which I ordered.
If you don't feel like waiting in the long line that stretches outside of Mother's, walk over to Deanie's Seafood (841 Iberville St.) in the heart of the French Quarter. There will be a wait as well, but you won't have to stand in line; just lounge in the bar area or go outside and people-watch. Whatever you do, get there early enough to get a serving of crawfish. If you get seated at 2 p.m., there's a good chance you've missed out.
Upon leaving your restaurant of choice, go get a Hurricane, and don't sit down to drink it. Walk around the streets of the Quarter or all the way to the convention center, cup in hand. This is New Orleans; you can do that.
The same thing you did last night is the same thing you will do Saturday night, and the same thing you will do Sunday night. You will go to the shows at the Superdome. When you get in a cab to get there, try to share a ride with people you don't know. There are more adventures that way. Catch a blast from the past like Raphael Saadiq in one of the Superlounges, or one of the legendary homegrown acts like Rebirth Brass Band. At some point, you will wobble, baby, wobble, baby, wobble, baby, wobble. At the end of the night your feet will hurt, but that's nothing another drink can't numb (don't be alarmed, this weekend was made for drinking), and so you do what's prescribed, and you go on to the next party.
The truth is that most of my Essence Fest memories, the best ones at least, are a blur. I remember the big-time acts I witnessed, and I will never forget the days my friends and I spent lounging in the lobby of the W Hotel, taking down shots of Jameson with a pretty bartender we called Coach. There were also the day parties at places like the House of Blues where 2:00 p.m. felt like 2:00 a.m. My brain pastes them all together, so they kind of blur into a Romare Bearden-like collage of food that appeals to all five senses. But in the middle of it all remains the one clear image I always remember about Essence Music Festival in New Orleans, Fourth of July Weekend: Smiling faces.
Click here for The Root's ultimate summer festival guide, and find out where to eat, sleep and party while you're attending some of the season's hottest events.
Jozen Cummings is a writer living in Harlem, N.Y. You can follow him on Twitter and read his blog, UntilIgetmarried.com.
Like The Root on Facebook. Follow us on Twitter.
Jozen Cummings is the author and creator of the popular relationship blog Until I Get Married, which is currently in development for a television series with Warner Bros. He also hosts a weekly podcast with WNYC about Empire called Empire Afterparty, is a contributor at VerySmartBrothas.com and works at Twitter as an editorial curator. Follow him on Twitter.