Jarl Mohn Says Latino Listenership Nearly Doubled in L.A.
Jarl Mohn, a veteran media executive and investor chosen by NPR to become its next president and CEO, said Friday that he will model diversity efforts at the network on those at Southern California Public Radio, where he is board chairman. Mohn said its station, KPCC, "probably has done a better job than anybody in the country."
"The percentage of Latinos listening to KPCC has nearly doubled" over 18 months to two years, Mohn told Journal-isms by telephone, partly because its morning flagship show, "Take Two," features a Latino co-host, sports broadcaster A Martínez.
"It's the second-most listened-to show in L.A. behind 'Morning Edition,' the national NPR morning show, said Mohn. At KPCC, "Forty percent of the audience is of color. . . . They said 'it wasn't for me before and now it is.' " Yet "When I listen . . . as an old white guy, I listen to it and I say, 'it's for me.' "
As for diversity at NPR, Mohn said, "I think we have the model for it.
"The organization has to become more diverse. The perception is that it's old, it's East Coast and it's white."
G/O Media may get a commission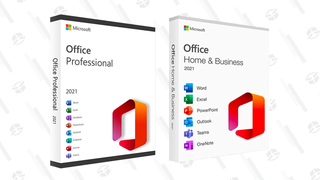 89% off
Microsoft Office Professional 2021 Lifetime License
Elizabeth Jensen wrote Friday for the New York Times, "NPR has turned to an unlikely figure from the private sector, Jarl Mohn, who earlier in his career founded the E! cable channel, to become its new chief executive, the organization announced on Friday.
"Mr. Mohn, 62, is a private equity investor in media companies who led MTV and VH1 during their transition away from music videos and has worked as a radio DJ under the name Lee Masters.
"While never working in public media or as a journalist, he is well acquainted with the challenges in both of the worlds he will be entering: He currently serves as chairman of the board of the fast-growing Southern California Public Radio, which includes the news and information station KPCC, and has donated close to $7 million to the station in recent years. . . ."
Paul Farhi added in the Washington Post that Mohn would be the eighth person to head the Washington-based digital and radio news organization in the past eight years. "Mohn, who has a reputation as a turnaround specialist, will inherit an organization that has been battling persistent operating deficits. It is projecting a deficit of $6.1 million in its current fiscal year, or about 3 percent of its projected revenue of $178 million. The gap between revenue and expenses led NPR to offer buyouts to its 840 employees in September, in an effort to pare about 10 percent of its staff," Farhi wrote.
NPR's Bill Chappell added, "Two questions will arise today, says NPR Media Correspondent David Folkenflik: How do we say Jarl Mohn's name, and what do his political contributions say about him?
"On Twitter, Folkenflik says the Center for Responsive Politics database shows that between 1990 and 2014, Mohn contributed $217,000, most of it going to Democratic candidates and political committees.
"As for how to say Jarl Mohn, we have this guidance: the 'J' is pronounced like a 'Y,' and Mohn rhymes with 'phone.' "
The Latino outreach evidenced by "Take Two" was not an instant success, according to Gabriel Kahn, writing in 2012 in Los Angeles Magazine about popular host Madeleine Brand, who found herself paired with Martínez.
"A former sports-radio guy from ESPN, Martínez speaks with the traditional baritone bounce of (male) commercial radio announcers, which wound up underscoring his initial discomfort with his new role. Like any neophyte (witness the early clips of Conan O'Brien), he rode a steep learning curve, misidentifying interviewees and asking tone-deaf questions that would lead to strained pauses in the conversation.
"Four weeks in, Brand opted out. On Friday, September 21, she gathered the staff of her show in a conference room at KPCC's headquarters and, holding back tears, made her announcement: She was leaving immediately. Brand collected a few items from her desk and walked out of the building. . . .
"It was, by public radio standards, an unseemly debacle that highlighted the very thing that KPCC''s president, Bill Davis, had been trying to avoid: an awkward racial and ethnic divide. You see, hiring Martínez was only the most prominent in a series of moves made by Davis to diversify a staff that had been as pigment challenged as its audience. Public radio has a hard time living down the fact that, despite its worldly outlook, its listeners are more than 80 percent white.
"The imbalance is a perennial topic at industry conferences and a source of worry for station executives — especially in a city like Los Angeles, where almost half of the population is Latino. Bruce Theriault, the Corporation for Public Broadcasting's senior vice president for radio, warned colleagues in a 2009 op-ed piece that 'we cannot live in a gated community' and that it is 'absolutely imperative that we find ways to bring in new voices.'
"A few years ago the CPB spent $2 million on an initiative called LA Public Media to develop Latino-friendly programming, but it produced little more than the sound of silence. So in 2011, Davis took up the challenge himself. He went to the CPB and secured a grant of $1.8 million (renewable in varying amounts for up to three years) to invest in attracting more English-speaking Latinos. . . ."
Asked whether he believed in tying compensation to progress on diversity goals, a strategy successfully used by the late Al Neuharth, CEO of the Gannett Co., and supported by Gary Knell, Mohn's predecessor at NPR, Mohn said, "I'm doing this job not for the money. I haven't made this little money for 25 or 30 years." Money "is not why people work there. I don't think people are [incentivized] to change their behavior for money."
The NPR board of directors listed "demonstrate a commitment to diversity" as one of its criteria for the job, Mohn said. "Luckily for me, I had the experience." He added that he defines diversity as including hiring, content and point of view, and that a listen to the names on NPR's air tells him that there is already a disposition toward the concept.
Asked whether he would continue such initiatives as the "Code Switch" project, funded in 2012 with a $1.5 million, two-year grant from the CPB "to launch a major journalism initiative to deepen coverage of race, ethnicity and culture," Mohn said he wanted to hear first from staffers.
"NPR is a national treasure," he added. "We have to grow it."
Buyout of McClatchy Service Puts 5 Blacks' Jobs at Risk
Tribune Publishing has acquired McClatchy Company's 50 percent stake in McClatchy-Tribune Information Services, giving it full ownership of the news and information business, and putting the jobs of five journalists of color in jeopardy.
"As part of the acquisition, Washington, D.C.-based MCT will consolidate operations in Chicago and become part of Tribune Content Agency, a syndication and licensing business operated by Tribune Co. since 1918," Robert Channick wrote Thursday for the Chicago Tribune.
Anders Gyllenhaal, McClatchy news vice president, wrote staffers in a memo Friday, "A portion of the jobs based in Washington will be part of the ongoing wire service or remain with the bureau. But a majority of the Washington positions will be phased out over the course of the summer as the move to Chicago is complete. . . ."
Five black journalists work for McClatchy-Tribune Information Services: Harry E. Walker, photo director; Gregory Clay, editor and writer; Lolita Jones, photo editor; Eric Goodwin, senior designer; and Rapier Copeland, director, information technology.
Clay told Journal-isms that he had already been offered a severance package.
Gyllenhaal told Journal-isms by email, "Tribune has said that its plan is to continue with the service much along the line that it has been. This is the largest supplemental wire service in the country and the plan is for it to grow, to find new directions and also to continue with the content elements that have made it strong.
"The exact number of jobs that will be phased out in DC won't be known until all the work on the transition is done. Folks are being interviewed for openings in Chicago this week. There are also some openings at the McClatchy Washington bureau we're working on, so there's a lot of work ahead before we know how the staffing works out.
Shaina Murphy, a spokeswoman for Tribune Co., said, "We have no comment on this matter." 
Tribune Co.: Tribune Publishing Family Of Companies Takes Full Ownership Of MCT Information Services

Matthews No Longer "Interim" NABJ Executive Director
Darryl R. Matthews Sr., interim executive director of the National Association of Black Journalists since January, has been given the job, NABJ announced on Thursday.
Matthews was the 32nd general president of Alpha Phi Alpha fraternity, serving from 2005 to 2008, and most recently was executive director of the National Medical Association.
NABJ President Bob Butler told Journal-isms that the association received two dozen applications for the position. A search committee reduced the pool to three, who were interviewed in late April. Butler declined to name the other finalists.
"Darryl brings more than 30 years of diversified leadership experience in association and non-profit management," Butler said in a statement. "He is a proven leader in fundraising and grants management with a successful record of increasing an organization's sponsorship base. He is well connected in the Washington, [D.C.,] area and has raised and administered millions of dollars in federal grants and contracts. "
Matthews said, "My vision is to ensure that through effective programs and events we will be the premier membership association of choice for black journalists pursuing excellence in their academic and professional lives. I very much look forward to working alongside our members to ensure that they have the tools and resources needed to maximize their potential and rapidly ascend as leaders in their career pursuits."
Matthews has said he wanted to take NABJ to "the next level," saying he has the skills and experience to do that. NABJ has a lot of potential and its conventions have admirable drawing power, he has said.
On Friday, NABJ announced the selection of Sandra Hughes, former anchor of WFMY-TV in Greensboro, N.C., as the recipient of the association's 2014 Chuck Stone Lifetime Achievement Award, newly renamed after NABJ's first president, and which it called the organization's highest honor.
Hughes is the first African American to host a PM magazine show in the Southeast and the first African American woman to host her own talk show in North Carolina.
Citizen Activists Duped by Phony Photos of Nigerian Girls
"A Twitter campaign using the hashtag #BringBackOurGirls has focused global attention on the plight of some 276 Nigerian schoolgirls kidnapped by the Islamic militant group Boko Haram," the New York Times reported Thursday on its Lens blog. "Three photos of girls have been posted and reposted thousands of times, including by the BBC and by the singer Chris Brown (who himself has had issues with anger management and violence against women).
"One problem: The photos are of girls from Guinea-Bissau, more than 1,000 miles from Nigeria, who have no relationship to the kidnappings.
"The use of these pictures raises troubling questions of representation, and misrepresentation. Ami Vitale, the photographer who made the original images as part of a long-term project, spoke with James Estrin on Thursday. Their conversation has been edited. . . ."
David Brooks, New York Times: The Real Africa

Megan Gibson, Time: Can A Social Media Campaign Really #BringBackOurGirls?

Ifeanyi Izeze, Sahara Reporters: Our Kidnapped Chibok Girls: Now That The World Is Here To Help Us?

Andrew Lam, New America Media: Q&A: Nigeria Kidnappings — Who Are the 'Boko Haram?'

Phillip Morris, Plain Dealer, Cleveland: Saving girls around the world will require more than hashtags

Hannatu Musawa, Sahara Reporters: #BringBackOurGirls (Week Three)

Tony Norman, Pittsburgh Post-Gazette: Bash Boko Haram on Twitter — then what?

Leonard Pitts Jr., Miami Herald: Extremist Islam is scared of educated girls, and the women they'll become

Rochelle Riley, Detroit Free Press: Kidnap of Nigerian girls a disgrace; the time for rescue is no
Over 63 Years, Many Came to Take Their Jet Personally
For many, it was difficult to be objective about Johnson Publishing Co.'s decision to convert Jet magazine to digital-only, announced Wednesday.
Lonnae O'Neal Parker wrote Wednesday for the Washington Post, "Jet has always been among the blackest places in black culture, and for many, including me, the loss of paper Jet feels personal. My wedding and my story on my cousin (headline: 'Light-Skinned Cousins In Maryland Pick Different Racial Paths') was in Jet; my mamma, and her family of educators, was a Jet cover story in 1959. And I personally know at least two former centerfolds. So many others have similar connections.
Parker also wrote, "It's difficult to overstate how much of that conversation and community coming together was around that 'Beauty of the Week.' I went to college with a guy who had his entire dorm room papered with pictures of Jet centerfolds. Beauties came cocoa-colored, cream-colored and cafe au lait, pretty in the face and largely thick in the thighs, with their measurements listed right next to their names. The feature has unselfconsciously been a decades-long celebration of a lush black beauty aesthetic run with the tacit understanding: little bitty sisters need not apply. . . ."
Black-oriented websites such as HuffPost BlackVoices and The Root posted their favorite Jet covers and asked for reader feedback.
Jarvis DeBerry, NOLA.com | the Times-Picayune: Jet magazine, black grandmas' favorite, to go all digital

Lewis W. Diuguid, Kansas City Star: Jet magazine helped chronicle civil rights history for black America

Richard Prince with Celeste Headlee on NPR's "Tell Me More": Barbershop Staple 'Jet' Magazine To Print Its Last Page (audio)

Brent Staples, New York Times: When 'Jet' Mattered
Internal, Tech Firm Backlash on FCC's Net Neutrality Plan
"Federal Communications Commission Chairman Tom Wheeler responded Friday to some of the most vocal critics of his proposal to allow Internet providers to charge content providers like Netflix for faster access to customers," Brian Fung reported for the Washington Post.
"In a letter to a tech coalition that includes Microsoft, Google, Yahoo and nearly 150 other companies, Wheeler said he will regulate broadband companies more heavily if the situation called for it. Wheeler added that as an entrepreneur, he has also been 'subject to being blocked from access to cable networks.'
" 'It is an experience that made me especially wary of the power of closed networks to innovate on their own agenda to the detriment of small entrepreneurs,' Wheeler wrote. . . ."
Fung and Cecilia Kang reported for the Post on Thursday, "The government's plan to let Internet providers charge Netflix, Google and others for faster access to customers has been thrown into turmoil, as the agency responsible for the rule has been riven by internal dissent and faces mounting opposition from the country's most powerful tech companies. . . ."
The activist group Free Press was making plans to demonstrate in front of FCC headquarters on May 15. "Thousands of activists, organizations and companies will participate in a day of action online and off to protest the FCC's plan to kill — rather than protect — the open Internet and allow rampant discrimination online," it said.
The National Association of Black Journalists, the National Association of Hispanic Journalists and the National Hispanic Media Coalition joined other groups in signing a letter Thursday that said, "We are writing to express our support for a truly free and open Internet. We strongly urge the Federal Communications Commission to reconsider and abandon efforts to adopt rules that would harm — rather than preserve — Net Neutrality." [PDF]
David Oxenford, Broadcast Law Blog: FCC Decides that it will No Longer Enforce the Zapple Doctrine – Killing the Last Remnant of the Fairness Doctrine
MSNBC Figures Go "Extra Mile" in Cinco de Mayo Apology
"MSNBC's Thomas Roberts and Louis Burgdorf are going the extra mile to make up for a Cinco de Mayo segment of 'Way Too Early' that was widely viewed as offensive," Roque Planas wrote Friday for HuffPost LatinoVoices.
"During the segment, Burgdorf wandered around the newsroom wearing a sombrero and drinking tequila straight from the bottle, while the words 'Mexican Heritage Celebration' appeared on the screen. Roberts and Burgdorf apologized on air on Wednesday.
'The two went a step further on Thursday. The President of the National Association of Hispanic Journalists, Hugo Balta, said in a Facebook posting that he spoke to the two by phone, praising them for reaching out to him personally to apologize for the segment, which Balta had criticized as 'stereotypical' and 'discriminatory.' "
Balta wrote:
"Just got off the phone with MSNBC's Thomas Roberts and Louis Burgdorf of 'Way Too Early'.
"I'm very grateful that they reached out to me…they didn't have to, no one told them to. In my opinion it says a lot about their character.
"We talked about the 'Cinco de Mayo' segment of course, but more than that we talked about what happens next. As we all know apologies are important, but actions speak louder than words.
"My critics and supporters alike point out to me that there are more important issues facing Latinos in the U.S. than a skit riddled with stereotypes. There's immigration reform, employment exploitation, inadequate if at all health programs, education, housing…much, much more.
"I reminded Mr. Roberts and Mr. Burgdorf that they and their team have an invaluable tool in their program which when used properly empowers, educates, inspires people to affect positive change, make better decisions and challenge their beliefs.
"We talked about how they and their program can be a conduit for stories that matter most to Latinos and honestly all communities in this country.
"It is my belief that the next time we see a segment about Latinos or a Latino on MSNBC it won't be about crime, illegal immigration or a parody…instead it will be a topic of substance and a person with authority. Stories and persons which our community has a wealth of.
"What happens next matters."
Whites' "Homosexual Agenda" Cited in Support of Black Press
Raynard Jackson, a Republican operative and businessman who has been finding a home in many black news outlets as a commentator, wrote this week that among the reasons for supporting the black press are its opposition to the "homosexual agenda" and "amnesty for illegals."
"Black newspaper owners are a better reflection of the true thinking within the Black community and their newspapers better reflect the full range of thinking within the Black community," Jackson wrote.
"Do you really think it is a coincidence that these Black outlets that are owned by white corporations are aggressively pushing a homosexual agenda or amnesty for illegals? This is in keeping with the agendas of these corporations. . . ."
Cloves Campbell Jr., president of the National Newspaper Publishers Association, which represents black community newspaper publishers, did not respond to an inquiry about whether he agreed with Jackson.
Several black media outlets, such as Colorlines, have joined others in the "Drop the I Word" campaign, saying they will refer only to actions, not people, as illegal.
"Senior Black Correspondent" to Take Over Colbert Slot
"Comedy Central isn't wasting any time — 'Daily Show' correspondent Larry Wilmore will take over Stephen Colbert's time slot in 2015, the network announced Friday night," Emily Yahr reported for the Washington Post.
" 'The Minority Report with Larry Wilmore,' created and produced by 'Daily Show' host Jon Stewart, will debut next January after 'The Colbert Report' wraps up for good this year, airing at 11:30 p.m. Colbert, of course, is heading over to CBS to take over 'The Late Show' from David Letterman in 2015.
"Wilmore, 52, is a familiar face to 'Daily Show' fans — he's been on the late-night show since 2006 and currently serves as 'Senior Black Correspondent.' In addition, Wilmore, a veteran comedy writer, co-created 'The PJs' (the animated show with Eddie Murphy) as well as the Emmy-winning 'Bernie Mac Show.' Fans of 'The Office' might also recognize him as the guy who ran the 'Diversity Day' seminar; he also served as a consulting producer on the NBC comedy series. . . ."
Eric Deggans, NPR "Code Switch": 'Senior Black Correspondent' Named Successor To Colbert (May 10)
Charles E. Rogers Dies at 66, N.Y. Entertainment Columnist
About 125 people attended services in Brooklyn, N.Y., on Tuesday for Charles E. Rogers, who wrote "Different Stages," an entertainment column in the New York Amsterdam News.
Rogers died April 29 in a Brooklyn nursing home of cancer, the Amsterdam News reported. He would have been 67 on June 30.
Rogers "kept his readers in the know about their favorite celebrities, from actors to singers, Black theater and major productions," Ron Scott reported for the paper on Friday.
Rogers was also a public relations consultant, manager, songwriter and media coach. "He loved the art of communication and used the banner of Charles Rogers Communications to promote his writing and work his magic as a publicist known for getting results for many clients over the years," Scott wrote.
"His client public relations roster included such actors as [Obba Babatundé], Lorey Hayes and Shari Headley; rappers MC Trouble and Doug E. Fresh; radio personality Vaughan Harper; and Black theater companies such as the HADLEY Players and Woodie King's New Federal Theater. . . ."
Elinor Tatum, publisher and editor-in-chief of the Amsterdam News, told Journal-isms by email, "Charles Rogers was a columnist for the Amsterdam News for nearly 30 years. He was wonderful part of the paper and will be sorely missed. I knew him for almost 20 years and working with him was an absolute joy. He opened our eyes to new talent and kept us abreast of the happenings in the entertainment industry."
Blog Talk Radio: Topically Yours — Charles Rogers (2008).

Follow Richard Prince on Twitter.
Facebook users: Like "Richard Prince's Journal-isms" on Facebook.
Journal-isms is published on the site of the Maynard Institute for Journalism Education (mije.org). Reprinted on The Root by permission.