Leader in Training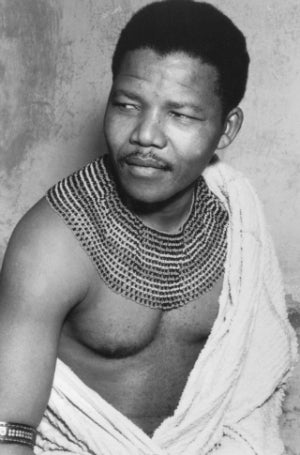 Nelson Mandela's legendary fight against South Africa's apartheid began in his early 30s, around 1950 — two years after the legal mandate for segregation was implemented. Mandela, a young attorney, joined forces with Oliver Tambo in 1953 to create the country's first all-black law firm, Mandela and Tambo, which represented blacks who were charged with breaking apartheid laws. Mandela and Tambo left their law firm in 1960 to lead the anti-apartheid Defiance Campaign of the African National Congress, which amassed more than 10,000 protesters.
Captions by Joshua R. Weaver
Nuptials
Mandela poses with his second wife, Winnie Madikizela-Mandela, at their 1957 wedding. For much of their marriage, Mandela was behind bars. During her husband's decades-long sentence, she began to take on a political role in the anti-apartheid movement, and in 1986, Winnie spurred controversy when she urged anti-apartheid activists to use violence. Shortly after Mandela's release from prison, he accused Winnie of infidelity. The couple, who had two daughters together, divorced in 1996 after a lengthy separation.
Changing Tides
Now president of the African National Congress, Mandela talks to a Cape Town teacher in 1964. Initially dedicated to nonviolence, Mandela later became a proponent of armed resistance, co-founding the ANC's armed division, Umkhonto we Sizwe, in 1961. Mandela was later charged and convicted on numerous accounts of treason, including several plots involving violence. Mandela admitted his involvement.
Raised Fists
Mandela and seven others are taken to jail after being sentenced to life imprisonment in June 1964 for spreading anti-apartheid rhetoric and promoting guerrilla warfare. Mandela was in prison nearly 27 years before his release in 1990. Mandela spent 18 years of his sentence at the infamous Robben Island prison, where hundreds of anti-apartheid activists and political prisoners were jailed during the 46-year reign of apartheid. 
Making Noise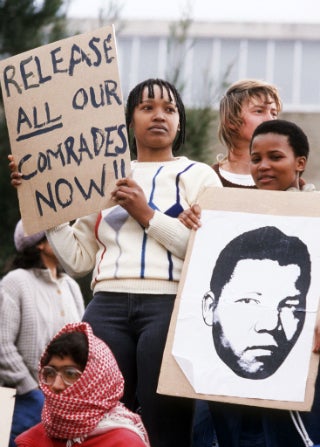 Mandela's daughter Zindzi, here 25 years old, protests with fellow students for the release of her father and other anti-apartheid activists at Cape Town University in 1985. Later that year, Zindzi made headlines when she read Mandela's letter rejecting then-South African President P.W. Botha's offer to conditionally release him from prison. Zindzi was only a year old when her father was sent to prison.
A Symbolic Liberation
Mandela stands with Winnie amid a crowd of cheerful onlookers after being released from Victor Verster Prison on Feb. 11, 1990. Mandela's release came days after then-South African President F.W. de Klerk's reversal of various bans placed on anti-apartheid organizations, including the ANC. On the night of his release, Mandela addressed a crowd in Cape Town, vowing to fight for equality for South Africa's black majority.
An Instant Icon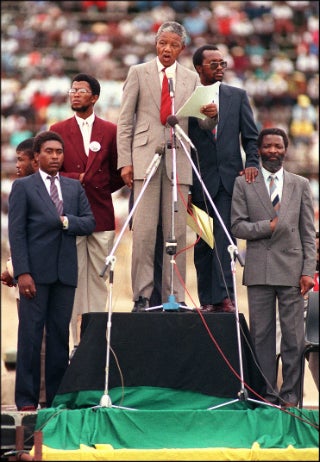 Surrounded by bodyguards, Mandela makes a speech honoring the 75th anniversary of the African National Congress on Feb. 25, 1990, less than a month after being released from prison. Mandela was a target for violence in the years following his release from jail.
Becoming a Laureate
Mandela and President George H.W. Bush stand at a podium together during a White House press conference in June 1990. Mandela received the Nobel Peace Prize alongside then-South African President F.W. de Klerk three years later. 
A Proud Father
Mandela gives away daughter Zindzi at her 1992 wedding to Zweli Hlongwane. Mandela was imprisoned for a large chunk of his children's lives. He and his first wife, Evelyn Ntoko Mase, had two sons, Thembi and Makgatho, and two daughters, both named Maki. His eldest son, Thembi, died in a car crash in 1969 at the age of 25. In jail when his son died, Mandela was not allowed to go to the funeral. Mandela and Winnie have two daughters, Zenani and Zindzi.
Paradigm Shift
Mandela celebrates the victory of the African National Congress during South Africa's first postapartheid and first democratic election in 1994. The ANC elected Mandela as the president of South Africa, making him the nation's first black head of state.
Royal Recognition
President Mandela welcomes Queen Elizabeth II during her 1995 state visit to South Africa. During her visit, the queen appointed Mandela to the royal Order of Merit.
A Fete for Freedom
Mandela makes a speech in honor of South Africa's inaugural Freedom Day on April 27, 1995, which commemorates the country's first postapartheid election in 1994. 
Celebrity Appeal
Mandela and Michael Jackson pose for cameras during the pop star's 1996 visit to South Africa. Mandela is friends with many celebrities, including U2's Bono, Oprah Winfrey and Will Smith, among others. Many of them support his charitable causes.
Couture for a Cause
Speaking of famous friends, Mandela and supermodel Naomi Campbell exchange words during a 1998 Versace fashion show in Cape Town in support of the Nelson Mandela Children's Fund.
A Humanitarian
Mandela stands alongside the members of U2 during his 46664 Concert. Held in Cape Town, the 2003 concert was the first in a series of concerts throughout South Africa and Europe that increased awareness of the HIV/AIDS epidemic in South Africa and across the African continent. The number 46664 refers to Mandela's prisoner number (466) and first year of imprisonment (1964) at South Africa's Robben Island.
Passing the Baton
Mandela and his third wife, Graça Machel, watch the inauguration ceremony of his presidential successor, Thabo Mbeki, on April 27, 2004, 10 years after the reversal of apartheid. Although Mandela handpicked Mbeki to be his deputy president in 1994, Mandela became critical of him after the other politician took over the presidency, particularly because of his stance on HIV and AIDS. Mbeki resisted demands from Mandela and others to implement a state-run antiretroviral campaign in 2001.
Cultivating the Future
President Bill Clinton and Mandela talk at the Nelson Mandela Foundation's third annual lecture in 2005, held a day after Mandela's 87th birthday. The Nelson Mandela Foundation has hosted more than eight lectures, featuring prominent figures such as Bishop Desmond Tutu.
A New Generation
Mandela celebrates his 90th birthday with then-South African President Thabo Mbeki and then-ANC leader Jacob Zuma in 2008. Zuma is currently president of South Africa. A concert featuring Will Smith, Oprah Winfrey and others was held a week later in London to commemorate his birthday, too.

Brilliant Minds
Mandela meets with the 10 members of the Elders — a group of notable public figures brought together by Mandela to assist in peace building — on May 29, 2010. The group includes prominent figures such as former President Jimmy Carter and former U.N. Security-General Kofi Annan. Formed in 2007, the Elders supports several causes, including humanitarian and peace efforts in Cyprus, Africa and the Middle East, and champions women's rights and nuclear nonproliferation.
The Winning Goal
Mandela and Graça greet the crowd during the final match of the 2010 FIFA World Cup held in South Africa on July 11, 2010. South Africa was the first African country in the tournament's 80-year history to host the event. On the eve of the opening ceremony, Mandela's great-granddaughter, Zenani Mandela, died tragically in a car accident. Mandela mourned the death of Zenani with family during the opening of the World Cup in South Africa, while condolences poured in from around the world.
Now Where To?
*Read Charlayne Hunter-Gault's Tribute to Mandela
*Check out The Root's guide to Louisiana's Forgotten Black History
*Check out The Root's genealogy Roots section
*Plan a family reunion and find family-friendly events in major cities
*Get updates on the casts of Boyz N the Hood and Jungle Fever