A North Carolina church got a scare on New Year's Eve during service when a man walked in carrying a rifle. 
However, as it turns out, when the stranger turned to the parishioners at the Heal the Land Outreach Ministries in Fayetteville, he was just looking for help because he was going through a rough period in his life, WRAL reports. 
Pastor Larry Wright was the first to spot the man as he entered the church with the gun. 
"I asked him, 'Can I help you?' " Wright, who is also a city councilman, told the news station. "His next words were, 'Can you pray for me?' When he said that, then I knew everything was going to be all right."
It was a tense moment for some churchgoers, who couldn't help thinking of the tragedy last year at the church in Charleston, S.C., upon seeing the man. 
G/O Media may get a commission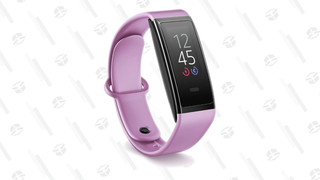 44% Off
Amazon Halo View Fitness Tracker
"I didn't see anything but this big rifle," one parishioner, Taylor Morgan, told the news station.
According to the Fayetteville Observer, the man told the congregation that the Lord told him he needed to go to church before he did something bad.
Wright prayed for the man, who reportedly fell to his knees and started to cry. He was then invited to sit in the front pew as Wright continued the New Year's Eve service. At the end of the service, the man came forward and asked for salvation, the Observer notes. 
"He gave his life to Christ," Wright told the news site. The authorities were called, but Wright asked them to remain outside until service was concluded. No one was harmed during the service. 
As it turns out, the man has been going through a tough time. WRAL notes that his wife was recently diagnosed with a debilitating disease and the couple are struggling financially. The power had just been cut off in their home. And, according to the man, he is a veteran struggling with post-traumatic stress disorder, mostly because he cannot afford his medication, WRAL reports.
The man eventually returned to the church to apologize after being briefly hospitalized. He was not charged in the incident.
"[There was] financial stress. I haven't been on my medicine for a while," said the man, who asked not to be identified. 
"I saw in his eyes hopelessness, hurt, pain, despair," Wright told WRAL. 
The man said on Sunday that he didn't mean any harm and thanked the congregation, asking for forgiveness and whether he would be allowed to be part of the church. 
"I pray that he comes back and visits us. I'm not scared of him, not now," church member Lucrecia Hall told WRAL.
According to the station, the man is scheduled to be baptized next Sunday.
Read more at WRAL and the Fayetteville Observer.