Nat King Cole died, too soon, in February 1965, of lung cancer at the age of 45. He left behind a body of work that embraces the American songbook and exotic rhythms outside America, and it continues to endear him to millions. An archetype of sleek, musical cool, Cole's influence remains, to borrow a word, unforgettable.
It's a testament to his momentum in the culture that he's been rediscovered by some of today's musical tastemakers in Re: Generations, a collection of Cole's tracks re-imagined by some of the hip-hop's best and brightest.
Some songs you may not recognize immediately. But they're all earnest, though not entirely successful, attempts to put some of the best-known work of one of the nation's most beloved popular singers into a contemporary context, with today's visionaries and stylists doing their thing in an era that is more brittle and dangerous than Cole's.
What makes Re: Generations work is not today's insistence on having its way with yesterday; there's irony and edge in some of these re-workings, a reflection of modern life. But these 13 tracks are a celebration of their own native, original power, and of the voice that made the originals so timeless.
Re: Generations presents these classics filtered through the production lens of will.i.am, who is carving deep distinctions as an artist separate from the Black Eyed Peas; Cut Chemist, formerly with Jurassic 5 and the Latin funk band Ozomatli; Detroit funk stylist Amp Fiddler, a veteran of stints with George Clinton; and rapper-producer Cee-Lo Green, among others. The record includes actual performances from Philadelphia's hip-hop collective The Roots; and the visionary Brooklyn band TV on the Radio, whose recent album Dear Science breaks other boundaries.
G/O Media may get a commission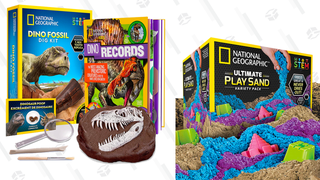 Up to 33% off
National Geographic Science and Activity Kits
The results are as singular and uneven as you might expect from such a democratic undertaking.
On will.i.am's interpretation of "Straighten Up and Fly Right," less is more. Leaving the tricks and devices aside, the song joins Nat King Cole in a duet with daughter Natalie—a Grammy-winning powerhouse in her own right. It's a reprise of the beyond-the-grave recording technique that made her 1991 remake of "Unforgettable" so shimmering and memorable. But the studio magic works here, too, with daughter's voice and pace fitting dad's own style like the parts of a well-made watch.
Cee-Lo Green (of Goodie Mob and Gnarls Barkley) re-imagines the Billy Strayhorn classic "Lush Life," giving the track the sweep and glide of an urban cityscape that excerpts Cole's voice, augmenting it with modern electronic touches in the studio, boiling the track down to Green's idea of its essence.
But there's a challenge—maybe even a problem—in tweaking this indelible part of the canon that may be as well-known for its words as it is for its music. With only snippets of Strayhorn's powerful, bittersweet lyrics intact here, Green has clipped the wings of the song, effectively turning a story into a sound bite, a painting into a snapshot. 
In the hands of TV on the Radio, "Nature Boy" attains a primal urgency, with the band's tense, driven atmospherics taking this Cole standard in a startling new direction, one that works despite the band's almost overpowering the material.
"Walking My Baby Back Home" disappoints. The Roots have basically fastened their streetwise hip-hop signatures directly onto the end of Cole's classic, resulting in a track that feels inorganic in its unity of two disparate sensibilities—glued on, rather than woven in.
Cut Chemist's treatment of "Day In, Day Out" is positively infectious, a deft blend of hip-hop, scratches and the Brazilian rhythms that Cole passionately explored in the latter stage of his career. Cut Chemist gives voice to his own passion for Latin rhythms on a tribute track that doesn't leave Cole's voice on the outside looking in. You can get the heart started with this on the iPod every morning.
Producer Salaam Remi's treatment of "The Game of Love" weds a song steeped in Brazilian rhythms to a bassy hip-hop beat that complements the original. Nas, who jumps in halfway through, offers just enough of his signature style to make a contribution that does for this track what Bryant Terry's seasoning style does for food: augments the flavor without overpowering it.
Re: Generations is finally a statement of unity that points to hip-hop's maturity as a versatile framework for idioms outside itself. Hip-hop has long since found common cause with rock; this record illustrates just how it's continuing to grow, forging links to the past, expanding its own vocabulary and doing what music does best: building bridges to somewhere else.
Michael E. Ross is a regular contributor to The Root.