The fight against systemic racism in policing was never about any one case. Stories like that of Elijah McClain, George Floyd and Breonna Taylor are but raindrops in a sea of incidents involving Black people and the aggressive tactics used against us by law enforcement.
While the Black Lives Matter movement continues to demand justice for Breonna, an eerily similar incident to hers happened in Nashville, Tenn. Much like Taylor's case, this incident involved the botched serving of a warrant that appeared to be obtained through faulty information, and the incident also ended in the victimization of a Black woman who had nothing to do with the crimes police were investigating. Fortunately, this Black woman survived the encounter, and the involved officers have been decommissioned while the investigation into the incident continues.

WSMV 4 reports that last week, three officers from the Metro Nashville Police Department raided the home of Azaria Hines—who said she was undressed at the time police began loudly banging on her door just before they used a battering ram to gain entry into the home.

From WSMV:

Hines told News4 she had just finished a late shift at her job and was on the couch asleep and unclothed when she heard a loud banging on her door.

Before she knew it, Hines said police came bursting through the door with a battering ram, smashing the door frame and pointing guns at her.

Hines' 15-year-old cousin and her 3-year-old nephew were inside the apartment at the time.

"We are very much traumatized. Every time I think about it, I just want to cry," Hines told News4. "I literally thought it was a dream. These kind of things need to stop. It just needs to stop."

The botched raid happened at Edgehill Apartments, an affordable-housing property of the Metropolitan Development and Housing Agency. Police said information from an outdated database led to the incident.
G/O Media may get a commission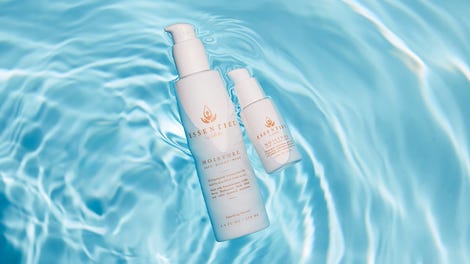 20% off
Essentiel by Adele
According to Interim Chief John Drake, Lt. Harrison Dooley, Sgt. Jeff Brown and Officer Michael Richardson were looking for a 16-year-old suspected of being involved in a number of vehicle burglaries, WKMS reports. Because the officers found the address in a housing authority database that hadn't been updated since November 2018, they ended up serving their warrant at a home the teen hadn't lived in since last summer and one Hines and her children moved in four months prior to the raid.
Video footage taken from the body camera of one of the officers shows the interaction between the officers and Hines just before they used a battering ram to bust down the door.
From WKMS:
The video, which police played for reporters at at Wednesday's press conference, shows three officers bashing in Hines' apartment door as she yells from inside that she's undressed.

An officer shouts, "Hit it again! Hit it again! Keep hitting it!" as the group bangs on the door. When Hines says she's not wearing any clothing, an officer orders her to step back.

"I don't have clothes on!" she pleads as they continue ramming in the door. "Are you serious?
Besides the fact that the officers broke their way into a home where their suspect no longer lived and ended up pointing guns at an innocent family, there's also the issue that they were doing all of this to catch a teenager suspected of a nonviolent crime.
"There's just no reason for a property crime," Drake said at a press conference Wednesday evening. "If we're not looking for a violent felon, someone that's dangerous to our community, we can pull back. One thing that I've talked about, at least for the last month, is: de-escalate, de-escalate, de-escalate. And, in this particular situation, we didn't de-escalate. We actually escalated, in my opinion. We could have prevented this."
The incident comes just a few weeks after the MNPD implemented "its long-awaited body camera program," WKMS reports. Drake told reporters that the footage is important to the investigation into the incident that marks the first high-profile case to be caught on camera since the new policy went into effect.
"The body cam footage is just pertinent to this investigation," Drake said. "And it's going to be pertinent, moving forward. And that's what the community wanted. The community wanted us to have body cameras so we can show our rights and our wrongs. We do a lot of things right. But some things we get wrong, as well. And this is one."
Hines told WSMV that she received an apology from the police department and that she hopes her story serves as an example to be learned from.
"These things can't continue to happen because people are losing their lives," Hines said. "I'm not a criminal. Like I was literally scared in my own home. I'm not really comfortable there."
"I hope the police department, I hope that everyone can be a little more kinder and be a little more cautious when it comes to things like this, because everybody is not a criminal," she continued.
---
Join the discussion! The Root is hosting its first-ever, virtual Root Institute, presented by Target, featuring several of the leading minds in our community talking about politics, culture, health, community building and social impact. Subscribe for updates today!