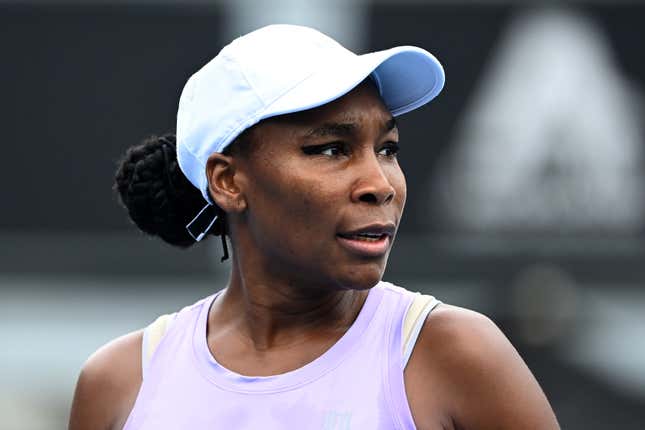 As the tennis world prepares for the 2023 Australian Open, fans will have to enjoy the tournament without two of their favorite players. Just a few weeks after confirming that she received a wild card into the competition, on Saturday, event organizers announced that an injury has forced Venus Williams to withdraw from the first major tournament of the season. Venus is a two-time Australian Open finalist, losing to her sister, Serena Williams, both times.

A Look Inside The 2022 National Portrait Gala
"Venus Williams has withdrawn from the Australian Open due to an injury sustained at the ASB Classic in New Zealand," tweeted the official Australian Open account. "Australia's Kim Birrell will be awarded her wildcard place."
This is especially disappointing since Venus started 2023 strong with a first round win at a warm up tournament in Auckland, New Zealand, then followed that up with an amazing performance in a tough three-set loss. She was looking really solid heading into the Australian Open, so it's unfortunate that she's once again been setback by injury.
Venus isn't the only high-profile fan favorite skipping the event, as two-time Australian Open champion Naomi Osaka is also out of the tournament. "Naomi Osaka has withdrawn from the Australian Open. We will miss her at #AO2023," wrote the event's official Twitter account.
Organizers announced that Ukraine's Dayana Yastremska will take her place in the draw. Osaka—who previously won the Grand Slam in 2019 and 2021—hasn't been seen in any of the warm up tournaments down under, so this isn't exactly surprising. The four-time Grand Slam champion has not played since withdrawing from an event in Tokyo in September. She's been open about her mental health issues and played sporadically in 2022.
Osaka is still extremely popular with tennis fans, and when she's on, she's still got one of the best hard court games in the world. I hope she continues to live her best life, even if that means I don't get to see her on the court.
While Venus and Naomi won't be competing in Australia, there will still be plenty of Black Girl Magic on display, as American star Coco Gauff won her warm up event in Auckland in impressive fashion. She breezed through the competition without dropping a set and won the final 6-1, 6-1. She was carried to her third WTA title by a confidence and power that helped her dismantle top tier opponents.
"It's been a great week for me despite the rain," Gauff told ESPN. "I couldn't ask for a better start to my season. It's my first title on hard courts since I was 15, so it's lovely to finally do well on a surface that I love."
You can follow Coco's progress when the Australian Open begins airing Sunday, Jan. 15 on the ESPN Networks.