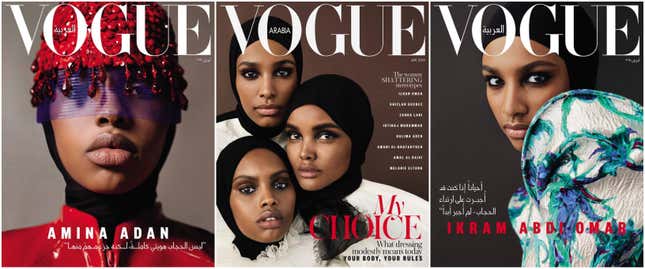 "I think it's important to remember that wearing a hijab is a woman's personal choice. It doesn't make her any better or worse than another Muslim woman. To me, it symbolizes modesty and gives me a sense of power," supermodel Halima Aden tells Vogue Arabia. Aden, a groundbreaking Muslim model who has become a well-known face on the fashion scene, joins up-and-comers and fellow hijab wearers Amina Adan and Ikram Abdi Omar for the magazine's April issue, a four-cover series exploring both the power and autonomy of modesty.
Tackling A Black Maternal Health Crisis & Embracing Reproductive Justice | The Root Institute
The three represent yet another form of inclusion now growing in the fashion industry, partially spurred by the financial influence of fashion-loving yet conservative women in Muslim countries. While Vogue Arabia only celebrated its second year this March, in that short time, it has proven itself one of the Vogue empire's more diverse imprints, featuring more modest expressions of womanhood from Rihanna, Beyoncé, Ciara, supermodels Adwoa Aboah, Iman, Imaan Hammam, Nicki Minaj, and more.
But the history-making impact of black hijabi models Omar, Adan and Aden together on the cover of the April 2019 issue—punctuated with the words "My Choice"—make a stunning statement against stereotypes that still cast hijab-wearing women as repressed or regressive in their thinking.
"Most people are afraid to ask questions and have a conversation about it, even if they are genuinely curious," Adan, the first hijabi model signed to a Danish modeling agency, tells Vogue. "All they know about Muslim people stems from the news or videos on the internet about women not having the same rights as men."
To further prove their point, Vogue Arabia conducted exclusive interviews with a number of powerful hijabi women, including Olympic fencer Ibtihaj Muhammad and freshman U.S. congresswoman Ilhan Omar (D-Minn.), whose ascension to the House led to the dismantling of an antiquated headwear ban.
No stranger to controversy or misinterpretation, Omar is candid about the pressures of being a historic "first" and tells Vogue she considers her hijab a "walking billboard" of her immigrant heritage.
"It feels enormous to have the opportunities to carry those identities and to have people see themselves represented in such a way, but it also feels heavy because being the first doesn't come with a rule book," she says. "Wanting to do right by it so that I'm not the last, is also lots of pressure...."
"It's been a challenge to try to figure out how to continue the inclusion," Omar later adds. "How to show up every day and make sure that people who identify with all the marginalized identities I carry, feel represented."
But far from the commonly held perception that she and other devout Muslim women are forced to wear hijab, Omar maintains her hijab is her choice; one she wants her two daughters to make for themselves (Omar is also mother to a son).
"To me, the hijab means power, liberation, beauty, and resistance," she says, later adding, "I work to remove obstacles so [my kids] can live at their best and happiest selves. If that translates to adapting the hijab, that's fine. If they don't, that's also fine. They have freedom of choice. Society tends to place lots of limitations, depending on what gender you are. I want my kids to be free."
Ibtihaj Muhammad is equally revealing about her experience as a hijab-wearing woman, specifically recalling how it impacted her experience as an Olympian.
"It was the hardest thing I've ever done in my life," she told Vogue. "It's like going to work every day with people who don't like you, who don't want you there… People who were doing what they can to not only throw obstacles in your path, but also to ensure that you don't believe in yourself."
Now an author and fashion designer whose platform and influence has earned her both her own Barbie and working with Nike to craft its Pro Hijab, Muhammad is clear on the growing impact of seeing hijabi women like herself rise as role models.
"Representation is so important for us—to push back against this dark narrative that's historically been created about the Muslim community," she says. "It's important to have Muslim women be shown in a different light—something we haven't seen before."
The Glow Up tip: The April issue of Vogue Arabia is on newsstands now.