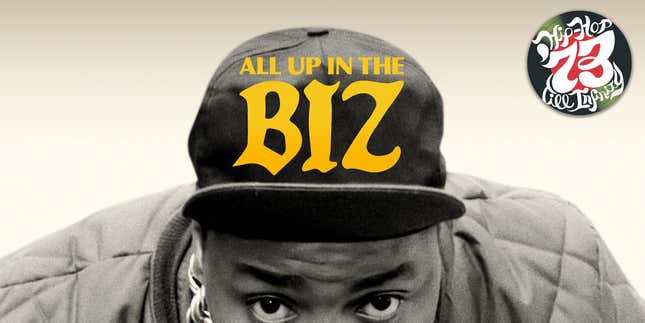 This story is part of our Hip-Hop: '73 Till Infinity series, a celebration of the genre's 50th anniversary.

"Where would my life be if it wasn't for him?"
Making Love Songs: The Story Behind Biz Markie's "Just A Friend"
In the closing moments of Showtime's moving All Up in the Biz documentary, a tearful Big Daddy Kane—who's universally revered for his stoic nature and unwavering cool—ponders a life that never was thanks to the intervention of hip-hop's court jester: the diabolical Biz Markie. And while countless others take turns throughout the film reflecting on their own rapport with a man who meant much more to them than "Just a Friend," one can't help but wonder if hip-hop itself would pose the same question if offered the opportunity to do so.

While many would consider Biz Markie's record sales paltry in comparison to juggernauts like Eminem, Drake, or the Ghost of Kanye West, his mark on the genre—and pop culture at large—is equally indelible. With his boisterous personality and clamorous approach, upon his arrival on the scene in the late 80s, the Long Island native revolutionized rap music as we knew it by weaponizing the source of his childhood torment—an endless deluge of cruel jokes and humor—and wielding it like King Arthur did Excalibur. So instead of beating us over the head with intricate rhyme schemes and ferocious bars like his peers, he taught us that hip-hop could be as silly (or as simple) as "Pickin' Boogers"—and that absolutely nobody beats the Biz.
In serving as an extended eulogy, All Up in the Biz allows some of your favorite rappers' favorite rappers to expound upon their most cherished memories—somehow I had no idea it was Doug E. Fresh who helped Biz perfect his beatboxing technique—and crippling regrets. Seeing the pain on Masta Ace's face as he describes what went wrong with their ill-fated, would-be collab, "Me and the Biz," paints one of my all-time favorite songs in an entirely new light. As does Biz's widow, Tara Hall, reenacting how in the midst of a 15-month fight for her husband's life, TMZ falsely reported his demise.
Its execution is another way in which this film stands out among its peers. Unlike the pedantic tone of other documentaries, All Up in the Biz is just as decidedly quirky—and decidedly hip-hop—as its subject. This is conveyed through a series of touching hospital reenactments, in which Biz's joyous nature is perfectly portrayed by a puppet (yes, an actual puppet) while his wife—as in not a puppet—works feverishly to nurse him back to health. Also contributing to the film's eccentricity is animation, which is sprinkled prominently throughout the film in order to amplify pivotal moments of a musical journey that was just as colorful and unorthodox as the I Need a Haircut rapper was—such as his uncanny penchant for somehow being everything, everywhere all at once. (That includes hanging out at high schools he was clearly too old to attend just to beatbox and rap at the lunch tables, as Rakim and Eric Sermon hilariously recall.)
Each of these components breathe buoyancy into a film with no shortage of heart, but nothing is more hip-hop than watching some of Biz's closest confidants—namely the aforementioned Big Daddy Kane, Craig G, and Masta Ace—taking turns behind the mic to honor one of their fallen Juice Crew brethren.

"You wanna know the story, let's begin,
He put a lot of effort in, 'cause he was more than 'Just a Friend,'
You showed many what they could accomplish,
It sounded like nonsense, but then you made us conscious,
I just think about the joy you brung,
In hip-hop, you was kinda our Forrest Gump"
In closing, Biz Markie was many things: a doting husband and father; a legendary hip-hop artist; a best-case scenario of a deeply flawed foster care system; a man-child obsessed with Barbies, Pro-Keds, and Gigantor. In All Up in the Biz, we're cordially introduced to each of these parts of his persona—triumphs, tragedies, and all—courtesy of the friends and family who loved him most. And unsurprisingly, thanks to Sacha Jenkins' masterfully executed vision, the end result is not only a stellar work of art, but one of the greatest hip-hop documentaries ever.

(Oh, and do not skip out on the credits! There's a touching surprise at the end.)

All Up in the Biz premieres August 11th on Showtime.