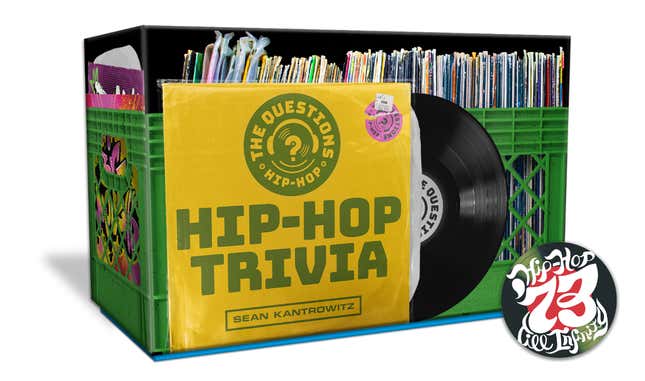 Since its inception in 2017, The Questions Hip-Hop has prided itself on being both a sanctuary and shrine to hip-hop's most ardent fanbase: those of us who grew up studying album liner notes like the Book of Mathew and who can recite Inspectah Deck's verse on "Triumph" like it's the Pledge of Allegiance.

My Hip-Hop Story: For OutKast's Big Boi, Hip-Hop Has Always Been The Voice Of the Youth
As the brainchild of "certified hip-hop brainiac" Sean Kantrowitz—who, for the record, is also an accomplished musician and dope-ass music producer—The Questions is much more than the riveting podcasts it publishes online or the live events it produces throughout the country. Courtesy of Kantrowitz's foresight and commitment to the culture, it's evolved into a full-fledged ecosystem, where everyone from Questlove to Hot 97's Peter Rosenberg to Warren G happily contributes. It's also a community in which you might randomly run into your favorite DJ or producer—or spew obscenities at the latest episode of "Making Illmatic," in which Kantrowitz and rapper MidaZ the Beast dissect lengthy albums like Dr. Dre's 2001 or Wu-Tang Clan's Wu-Tang Forever and butcher trim them down to a svelte 10 songs.

And much like the music it's inspired by, The Questions continues to adapt and evolve in order to satiate its ever-expanding audience. To that end, in celebration of hip-hop's 50's anniversary, Kantrowitz has joined forces with Penguin Random House to transform his popular trivia game show into a 300-card spinoff you can play at home. So whether you consider yourself a die-hard purist (like me!) or merely a casual listener (not like me), you're cordially invited to test your hip-hop knowledge with a range of questions that may or may not expose the fact that you have no idea which two songs Andre 3000 produced for Gwen Stefani. ("Bubble Pop Electric" and "Long Way to Go" are the correct answers, by the way.)
"So in 2017 or 2018, The Questions started as a live event in Los Angeles," Kantrowitz explained to The Root. "It was something that myself, DJ Steve1der, and DJ Spider founded as this event we wanted to do. People have a certain idea of what trivia nights are, and we wanted to do something that incorporated a lot of media and energy. Incorporate a DJ; make it feel more modern. And as somebody who has clocked many, many years into going to hip-hop shows and events, wouldn't it be amazing if we had something that started early and ended by like 10:30? That was super important to me. So that was where The Questions began."
As the years flew by, Kantrowitz's burgeoning platform was showered with critical acclaim, with hip-hop's biggest names and most dedicated disciples championing his efforts. But all that came to a screeching halt in 2020 when the COVID-19 pandemic shut everything down. "We had our first Brooklyn show booked for March 19th of 2020," he said. "The pandemic obviously prevented that from happening."
So with the entire world crippled with fear and everyone hunkered down in their homes, a pivot was necessary in order for The Questions to continue to thrive—and survive.
"We didn't know how long we were all going to be locked inside," he said. "So we started doing it on Instagram Live and we flipped the format so it wasn't just the audience playing the game, but it would include special guests. So we just started reaching out to our contacts. It was a really great way to grow the brand."
Especially when you can reel in big names like Bun B, Just Blaze, Kid from Kid 'n Play, and countless others. So after 150 podcast episodes (and counting), a deadly global pandemic, and more live events than he can probably count, Kantrowitz realized it was time to expand The Questions into uncharted territory.
"Hip-Hop has so many great practitioners with great stories to share," he said. "Not just about their own career, but about their identity as fans. Because that's really what we geek out on. It's about being fans of the music. Not just the artist's music, but the music that was important to them. So from there, I started developing the idea of how can I turn the questions into something more tangible and partnered with Penguin Random House to publish a 300-card version of The Questions, which was released through [the imprint] Clarkson Potter this year."
And while you can't replicate the magic of a Kantrowitz-hosted event at home (trust me, I've tried), you are entirely capable of curating a memorable experience that's uniquely your own. Just make sure you know which member of Hieroglyphics is responsible for designing their iconic logo. (Psssst…It's Del the Funky Homosapien.)
"I think [playing at home is] a different experience, but it could be even liver in the card game version," he said. "Whatever environment we listen to and discuss music—whether that's at shows, house parties, barbershops, or any sort of environment where we have strong opinions—putting people together who are all passionate about this is going to invariably result in some live energy. So I think with avid hip-hop heads, there's just a yearning to have that knowledge and also that braggadocio that's built-in to where, not only do you want to know things, but you also feel pretty confident stepping into a room and being like, "I know more than all of you motherfuckers.'"

Get your fix of The Questions Hip-Hop Trivia from Random Penguin House or your retailer of choice.