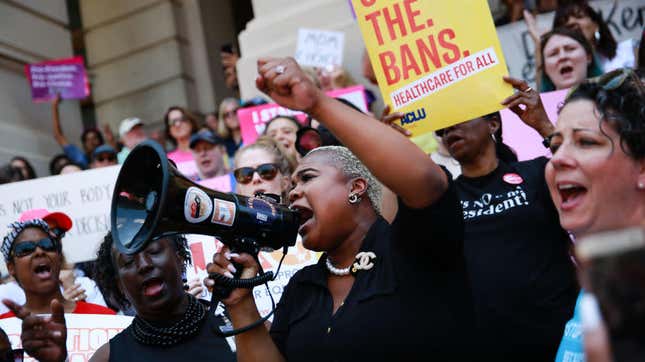 On Friday, Missouri Gov. Michael L. Parson signed controversial legislation banning nearly all abortions at eight weeks of pregnancy. The only exceptions are made for medical emergencies—women or girls who are victims of rape or incest will not be able to get a legal abortion in the state.
Fighting "Lie-abetes": How To Spot And Combat Disinformation and Conspiracies In Politics | The 411: Part 2
With this new law, doctors who perform the procedure after the eighth week could be imprisoned for five to 15 years, but women who have an abortion would not be prosecuted, according to NBC.
"By signing this bill today, we are sending a strong signal to the nation that, in Missouri, we stand for life, protect women's health, and advocate for the unborn. All life has value and is worth protecting," the Republican governor said in a statement Friday, NBC reports.
Pro-choice advocates condemned the law, which strips reproductive rights from women and girls, as dangerous. In a statement released Friday and reported by NBC, Planned Parenthood Action Fund President Leana Wen said: "Missouri Gov. Mike Parson just signed the kitchen sink of extreme abortion bans, with every dangerous provision they could pack in one egregious bill. He and his counterparts in Alabama, Ohio, Mississippi, and Georgia are showing the American people what it looks like to be out of touch with science and reality."
The bill's sponsor, Republican state Rep. Nick Schroer, claimed that the purpose of the bill is "to save lives ... to withstand judicial challenges and not cause them," rather than to trigger a court fight that might ultimately lead to overturning Roe v. Wade. He also said, however, that "if and when that fight comes, we will be fully ready."
M'Evie Mead, the director of Planned Parenthood Advocates of Missouri, said, "People need to know that this ban is not in effect—yet. Abortion is still legal in this state and Planned Parenthood Advocates will do everything we can to protect access to abortion in Missouri."
Correction: Sept. 16, 2019, 5:19 p.m. ET: This story has been edited to remove unattributed text and to add fuller sourcing.