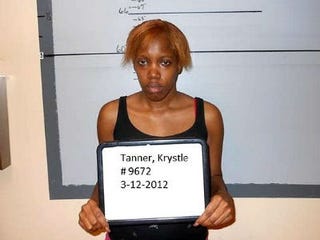 Eight years ago, a Texas infant vanished. "I prayed every night that he was safe, loved and he would come home one day," his mother, Auboni Champion-Morin, said. This week, it seems her prayers have been answered. Authorities have located the child and will reunite the family this week.
The Associated Press reports:
Krystle Rochelle Tanner, 26, remained jailed without bond in San Augustine, about 200 miles southeast of Fort Worth. She was arrested on a kidnapping charge Monday.
The boy's mother, Auboni Champion-Morin, told Houston television station KPRC that she may be reunited with her son later this week. Authorities said she must first undergo a DNA test, even though they're sure of his identity.
"I want to hold him in my arms and let him know who I am," said Champion-Morin, who lives in Houston. "I hope he can feel the same thing I feel for him."
Late last summer, child welfare investigators in San Augustine County — about 150 miles northeast of Houston — received a complaint that Tanner and her boyfriend were neglecting their two children, Cunningham said.
Tanner, also the baby's godmother, was a suspect when the mother reported her 8-month-old son missing in late 2004. But Tanner's relatives in Houston told police that she and the infant had vanished. The case went cold and was closed in 2006, said Chief Deputy Gary Cunningham of the San Augustine Sheriff's Department.
Read more at ABC News.