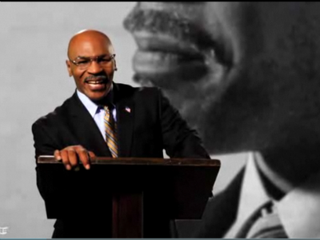 On Tuesday Funny or Die announced its 2012 Republican nominee hopefuls. There's also this full-length spoof video of a Herman Cain ad, starring Mike Tyson as the former Godfather's Pizza CEO.
What's the mock candidate's explanation for his lead in the polls? "Because the Tea Party loves crazy more than they hate black." Even those who don't agree with that statement or with the overall political bent of the video will be hard pressed to argue that Tyson is not surprisingly hilarious in it.
Herman Cain's Campaign Promises with Mike Tyson from Mike Tyson
Read more at the Huffington Post.
In other news: Eddie Murphy Bows Out of Oscars.