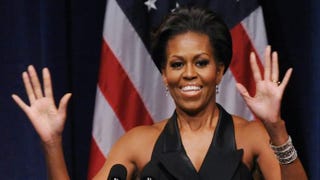 In honor of first lady Michelle Obama's 50th birthday—she'll be celebrating it at a White House bash this Saturday—The Root decided to take a look back at her early years.
Michelle LaVaughn Robinson was born on Jan. 17, 1964, in Chicago.
She was a student at Bryn Mawr Elementary School.
Here she is at Princeton University in 1983.
Michelle graduated from Princeton cum laude with a B.A. in sociology in 1985.
The Obamas were married Oct. 3, 1992.
A young Barack Obama visits Kenya with Michelle.
The Obamas' first Christmas in Hawaii.
The Obama family grew with the birth of Malia in July 1998, followed by Sasha in June 2001.
A short video biography: