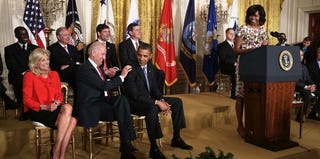 First lady Michelle Obama said that students at a high school near her family's Chicago home told her recently that "every day they wake up and wonder whether they're going to make it out of school alive," according to The Hill.
She told CBS Sunday Morning that she learned the disturbing detail last month during a meeting with students after a speech on gun violence. She said that she was saddened to learn just how much fear plays a role in their daily lives.
"I mean, every single kid worries about their own death, or the death of someone, every single day," Obama said.
The first lady traveled to her hometown to advocate for new gun controls ahead of the Senate's vote last month on a bill that would expand background checks on gun purchases. The vote fell five senators short of the 60 needed.

In the interview with CBS, Obama said that lawmakers have an "obligation to these kids" to try again.
Read more at The Hill.