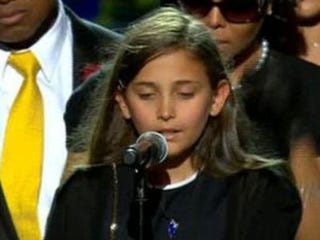 People magazine reports that 13-year-old Paris Jackson is following in her father's footsteps by making her way into the spotlight. Jackson's only daughter, who has said that she wants to be an actress, will star in the upcoming Lundon's Bridge and the Three Keys, a mixed live-action and animation movie. Her role: as a girl who survives being brainwashed by a jellyfish queen in the ocean.
Filming begins in January on Lundon's Bridge, which is the first in a series of five movies to which Paris has committed. Producer Stephen Sobisky told People that half the profits from the venture will be donated to schools.
Putting at ease those who might be concerned that Paris could struggle with the pressures of celebrity the same way her father did, Sobisky said, "Our goal is to make sure she has a fun time doing something that keeps her busy. We're a family-driven group. For me, Paris is going to be like one of my children, and I'm going to protect [her] just like I do my other three kids. We want her to enjoy this experience."
Read more at People.
Like The Root on Facebook. Follow us on Twitter.