Linda Deutsch of the Associated Press is reporting that the seven men and five women who hold the fate of Michael Jackson's doctor in their hands are a diverse cross-section of Los Angeles, people of varying ethnicities from different towns who might never have met if they had not been thrown together in the jury pool.
They are white, black and Hispanic and mostly middle-aged, and they live in an assortment of suburbs in the Los Angeles urban sprawl. Most have children, and some have grandchildren.
They include a professor, postman, bus driver, actor and movie-animation supervisor. The panel is set to resume deliberations Monday after spending its first day in discussions Friday without reaching a verdict.
Dr. Conrad Murray has pleaded not guilty to one count of involuntary manslaughter after prosecutors accused him of administering a fatal dose of the powerful anesthetic propofol to the King of Pop. Murray is facing probation or up to 4 years in prison.
Wow. Four years in prison for obtaining a lethal drug illegally and administering it to a man who clearly had a drug problem for $150,000 per month sounds pretty light to us. That sounds like a cake walk, considering Murray's alleged negligence, which resulted in the death of one of the most talented people to ever walk the Earth.
Don't get us wrong — we don't think Murray's alleged crime should have heavier consequences because he is accused of killing the King of Pop. We just think the proposed penalties are light for someone who is alleged to have operated with so much malice. At any rate, a jury that is representative of the venue it represents is always a good thing, no matter the charges or the outcome of the trial.
G/O Media may get a commission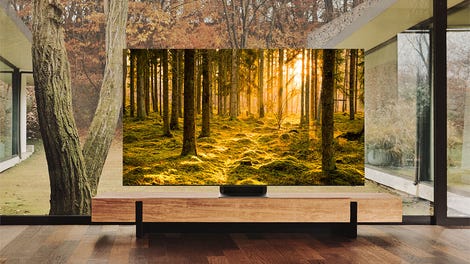 Up to 40% off
Samsung Smart TVs
Read more at Yahoo News.
In other news: Dear Camp Cain: Stop Calling it a Lynching.