Michael Feeney, Mentor With a Purpose
Service in Harlem Sanctuary Has Feel of NABJ Meeting
Deon J. Hampton, a reporter at Newsday and fraternity brother of Michael J. Feeney, will never forget driving from Oklahoma to New York on faith. Hampton had been laid off from the Tulsa World in March 2011 and was not optimistic about his job prospects.
"Anybody who believes in God, raise your hand," Hampton asked the crowd of mourners Monday at Feeney's funeral in Harlem's First Corinthian Baptist Church.
"God works in mysterious ways. For me, that angel was Mike. Mike pulled me from the ashes of nowhere," Hampton continued. "He said, 'Don't worry about it, man, I'll make a few calls for you.' Nine days later, I had a job."
Feeney had secured a three-day tryout for Hampton at the Record in Hackensack, N.J., Feeney's former employer. During the tryout, Hampton wrote a front-page story reporting that the state of New Jersey was going to host a controversial bear hunt that year.
G/O Media may get a commission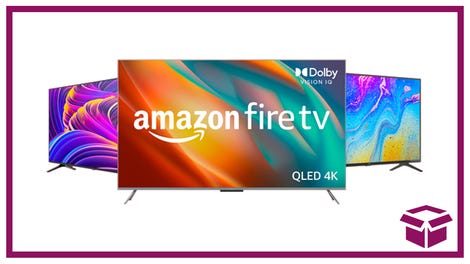 Ooh. stunning.
New Amazon Fire TVs
When Feeney died Jan. 31 at a Teaneck, N.J., medical center of what his mother described as a staph infection in a kidney, Hampton wrote a story about his "newspaper brother" for NBCBLK. His was the only one to quote Feeney's mom, Reba Willis, saying her son told her days before succumbing, "I'm going to die in here."
Hampton followed that with testimony before upwards of 500 mourners at First Corinthian. Feeney, master networker and mentor at such a young age — he was 32 — inspired that kind of loyalty. His admirers filled the sanctuary and overflowed into the balcony.
"He went straight to leadership," Sheryl Huggins Salomon, veteran journalist and digital consultant, told Journal-isms afterward at the repast. "A lot of people his age are still looking for mentoring and a leg up."
Sia Nyorkor, a WOIO-TV reporter and multimedia journalist who came in from Cleveland, added, "This is only a quarter of the people this guy touched. So many people couldn't be here." The primarily New York crowd comprised so many media professionals that it was reminiscent of a convention of the National Association of Black Journalists.
Feeney spent nearly five years at the Daily News in New York, where he covered upper Manhattan, before being laid off in 2014. He was then the news organization's only black male reporter.
As Hampton wrote, Feeney was a rising star among black journalists and became known for his exclusive interviews with celebrities such as Jay Z, Beyoncé and Rihanna. He was also two-term president of the New York Association of Black Journalists, NABJ's Emerging Journalist of the Year in 2010 and a proud graduate of Delaware State University, where he said he felt like a rock star when returning to the historically black campus.
Feeney was a New York Yankees fan who also loved wrestling and could impress on the dance floor, eulogists said. He was about to fulfill his dream of being a full-time entertainment reporter, having accepted a job at CNN in Atlanta.
The Rev. Al Sharpton was among the first at the service to speak. "I don't do a lot of funerals," Sharpton said. "Most people lie about themselves," expecting their eulogists to exaggerate their accomplishments. Those people "should go straight from the morgue to the coroner," Sharpton said.
But Feeney was genuine. "He was not just someone with a job. He was someone that did a job," Sharpton continued. "Many of the media institutions have been eliminating people of color. Many had been silent about the exclusion of their peers." Not Feeney. "Michael left a proud legacy and never forgot who he was . . . . it was a life of integrity and dignity."
As part of his freelance work, Feeney was preparing a journal for the 25th anniversary of Sharpton's National Action Network.
A few speakers later, NABJ President Sarah Glover asked the throng, "Who here has been impacted by our saint, Michael J. Feeney? Raise your hand." She followed up with, "If you have you been deeply inspired by Michael, raise your other hand."
Then Glover, a former photographer at the Philadelphia Inquirer and Daily News, took a photograph of the raised hands. "Wow… that's just powerful," she said. "In 32 years of life, Michael impacted thousands of people."
Feeney even introduced Glover's 19-year-old son to Feeney's fraternity brothers, although her son had no plans to attend Delaware State, she said.
David Ushery, an anchor at New York's WNBC-TV, said that while in the hospital, Feeney mentored young nursing students, encouraging them to pursue their dreams.
Perhaps fittingly, Feeney's service was held in Harlem, a part of his Daily News beat and a storied neighborhood that honors black achievement. The church is not far from Malcolm X Boulevard and a community center bearing his name and it sits on Adam Clayton Powell Boulevard, named after the famed Harlem congressman.
Johann Calhoun, special projects editor at the Philadelphia Tribune and an NABJ board member, told Journal-isms that he "just broke down in front of my boss and his colleagues" last week as he was closing a Black History Month project. "We were close," Calhoun said, adding that Feeney's passing also caused him to think about what Feeney represented.
"There should be a concern for the future of black male leaders. Who are we molding to lead our race?" Calhoun asked. "Not only of black journalists, but black leadership" overall.
The American Society of News Editors does not isolate black men in its annual newsroom diversity census. However, blacks or African Americans were 12.6 percent of the U.S. population in 2014 census figures, but were 4.74 percent in the ASNE survey for 2015, down from 4.78 percent the previous year.
Monica Peters, a Philadelphia freelancer, said she is a member of the Philadelphia and New York chapters of NABJ, so attractive was Feeney's revitalized New York Association of Black Journalists.
More than one person remarked Monday that a recitation of Feeney's accomplishments belied his age.
They also suggested that the number of people he mentored should provide a wealth of potential leaders to follow his example.
A second funeral is scheduled Tuesday after a viewing from 4 p.m. to 6 p.m. at Community Baptist Church on First Street in Englewood, N.J.
It is to be streamed live at http://www.cbcofe.org/services.php#live
A Michael J. Feeney Memorial Fund, established to help defray funeral costs, with $10,000 to start his endowment fund for scholarships, stood at $27,505 Tuesday morning, exceeding its $20,000 goal after a week online. With two days remaining, 566 donors had participated.
Leonard Greene and Chauncey Alcorn, Daily News, New York: Former Daily News reporter Michael Feeney, 32, remembered as passionate and kind at Harlem funeral attended by hundreds

Erika Hardison, HuffPost BlackVoices Black Excellency Cut Short: Honoring Journalist Michael J. Feeney's Life (Feb. 5)

Jay Levin, the Record, Hackensack, N.J.: Teaneck native Michael Feeney, former Record reporter, dies at 32 (Feb. 1)

Carolina Pichardo, dnainfo.com: Hundreds Attend Funeral for Award-Winning Uptown Journalist Michael Feeney
NYU J-Students Say They Were Profiled at Rubio Event
"On Sunday, a group of New York University journalism students and professors went to the Marco Rubio town hall in Bedford, New Hampshire, where they say they were racially profiled by the Florida senator's staff working the event," Danielle Wiener-Bronner reported Monday for Fusion.
"The town hall marked the end of a largely successful reporting trip: the students were thrilled to gain field experience during the exciting days leading up to the New Hampshire primary, and had positive experiences at events for both Democratic and Republican hopefuls. But things apparently took a turn for the worse for three black women at the Rubio event: professor Yvonne Latty and two of her students, Taisha Henry and Ugonma Alaoma Ubani-Ebere.
"In separate interviews, Henry and Ubani-Ebere explained that they entered the town hall, held at a school cafeteria, through an entrance intended for the general public without press passes. Two professors in their group were granted press badges, but the students were not.
"Henry and Ubani-Ebere were setting up cameras in front of the press section when they were told that only members of the media were allowed to film. 'I had the tripod in my hand, but I didn't set up yet,' Henry told me. 'Ugo had the camera in her hand.' So when they were told to put away their cameras, they obliged. 'We started collapsing our stuff,' Ubani-Ebere told me. 'We notice[d] that we keep getting stares.'
"This was at odds with what the students say they saw: Some white members of the NYU class were able to access the press section without press credentials, no questions asked. Ubani-Ebere said she witnessed another student, a 26-year-old white man with glasses and a beard, set up a tripod and film without interruption from Rubio's team. When she and Henry pointed this discrepancy out to a staffer, Henry said 'he didn't bat an eyelash.'
"Both students told me that all of the Rubio event staff that approached them were white. . . ."
Latty wrote on her Facebook page, "I had Trouble getting in at all…even when a white male colleague offered to give me his press pass we were denied and after much protesting I got in just in time to see my black students in tears.
"Both these girls, like me, are daughters of immigrants and to be treated like this by the staff of a child of Cuban immigrants is so disgusting, so annoying that I am beyond pissed off."
Latty also wrote, "At a time when the number of black journalists [is] dwindling and these young women are awesome, they are disrespected and treated like second class citizens. I can only hope that they can stay strong and I am happy they came back. When I hugged Taisha she said she had to come because she was worried about me!"
Wiener-Bronner added, "The Rubio campaign did not respond to a request for comment; Latty, Henry, and Ubani-Ebere said they have not had contact with the campaign following the event.
"Rubio's New Hampshire communications director, Michael Zona, told Wired that the incident was the result of a misunderstanding. 'We reserve space for those who have RSVPed, and other than that, it's first come first served,' he said, adding that he didn't know why the students were approached more than once."
RT: Profiling Journalists at a Marco Rubio Event w/ Guest Yvonne Latty (video)

Critic Gives CBS "Solid Grade" for Super Bowl 50 Coverage
"The camerawork was outstanding and the announcing was more than good enough to earn CBS a solid grade for its telecast of Super Bowl 50 on Sunday," David Zurawik wrote Monday for the Baltimore Sun.
"I can't count the number of Super Bowls I've reviewed in which all those extra cameras did little to take viewers deeper inside the game. But that wasn't the case in the Denver Broncos' 24-10 victory over the Carolina Panthers.
"You couldn't help but laugh at the overkill of giving almost every camera on the field a name, and at some having a sponsor attached as well — like the Bud Light Skycam, which became the Budweiser Skycam in the second half. My favorite was the Pylon Cam. It's a pity that CBS and the NFL couldn't find a sponsor for that one. . . ."
Mae Anderson, Associated Press: Super Bowl 50 ads for bowel problems: "Wrong place, wrong time"

Chris Ariens, TVNewser: President Obama Bookends CBS's Super Bowl Coverage

Chris Ariens, TVNewser: Gayle King Keeps It Light in Presidential Super Bowl Interview

Jamilah King, mic.com: Notice This Racial Double Standard in the Coverage of These Rioting Denver Broncos Fans?

Jamilah King, mic.com: The Important Message Behind Beyoncé's Dancers' Outfits Capped Off Her Most Important Week
Officials Urge Change After ProPublica-Daily News Report
"A wide swath of public officials [is] calling for change in response to a Daily News and ProPublica investigation about the NYPD's use of an obscure type of lawsuit to boot hundreds of people from homes," Sarah Ryley reported Monday for ProPublica and the Daily News in New York. "The cases are happening almost exclusively in minority neighborhoods.
"Several city council members said they were considering amendments and other reforms to safeguard abuses.
"Council Member Vanessa L. Gibson said the statistics included in the story are 'shocking.'
"Public Advocate Letitia James said she would conduct a thorough inquiry into 'some serious legal and constitutional questions' raised by the story. 'Some of the rights that individuals are forfeiting, to me, constitutes coercion.'
"The judge who oversees the day-to-day operation of the state's trial courts, which handle nuisance abatement cases, also said there should be more safeguards.
" 'It strikes me that this law may be broader than it should be,' said Chief Administrative Judge Lawrence Marks. 'The Mayor's Office and the city council might take a close look at that.'
"Mayor Bill de Blasio, who was elected on a promise of police reform, deferred comment to the NYPD. The NYPD ignored repeated requests for comment.
"As a result of the story, Marks said that an educational session for judges handling the nuisance abatement cases would be held later this month. Marks stressed judges are independent and entitled to apply the law as they interpret it. . . ."
More Exonerated in 2015 Than in Any Other Year
"A frustrating thing about America's criminal justice system is that some police and prosecutors seem more interested in arrests and convictions than justice," the Pittsburgh Post-Gazette editorialized on Thursday. "Institutional indifference to actual guilt can lead to outcomes that are, well, unjust.
"This is why the report by the National Registry of Exonerations, at the University of Michigan Law School, is sobering and infuriating.
"A record number of people, 149, were exonerated last year after being falsely convicted of crimes. That's 10 more than in 2014, the previous record year. Not only were the lives of innocent people disrupted, the convictions created a false sense of closure for anyone who thought justice was done.
"The fact that three wrongfully convicted people are freed from prison every week in the United States should give Americans pause. Three of 2015's exonerations were issued to Pennsylvania prisoners: Lewis Jim Fogle of Indiana County, Zachary Handley of Northampton County and Han Tak Lee of Monroe County.
"Fifty-eight of last year's exonerees had been convicted of homicide, including 44 whose cases were marred by official misconduct. Five were on death row and 19 sentenced to life in prison, including Mr. Fogle and Mr. Lee. Twenty-seven of those freed were convicted by false confessions.
"Another tragedy is that only 71 percent of those who are falsely convicted receive financial compensation, according to the Innocence Project of New York. Pennsylvania, which gives exonerees nothing, and other states must right this wrong.
"Even though law students, various Innocence Projects and conviction integrity units in district attorney's offices around the country deserve credit for unearthing these legal miscarriages, no one knows how many cases fall through the cracks.
"Americans need to ask hard questions about the fairness of their criminal justice system and actively root out the practices and biases that lead to false convictions. If justice isn't capable of standing up to scrutiny, then it isn't justice at all."
Mark Berman, Washington Post: More people were exonerated in 2015 in the U.S. than any other year (Feb. 3)

Matt Ferner, Huffington Post: A Record Number Of People Were Exonerated In 2015 For Crimes They Didn't Commit 
Mexicans Search for Kidnapped Reporter, a Mother of Two
"An armed commando carrying heavy weapons and wearing military fatigues broke into the home of Mexican reporter Anabel Flores Salazar at around 2am this Monday and bundled her into a car," Óscar Balderas reported Monday for VICE News.
"The mother of two small children, Flores covered the police beat for the newspaper El Sol de Orizaba in the central mountainous region of the southern state of Veracruz.
"In recent years Veracruz has been the deadliest state for Mexican media workers with 14 killed since 2011, according to the Mexican chapter of the freedom of expression rights group Article 19. These include Rubén Espinoza who was killed in the summer of 2015 in Mexico City where he had gone to take refuge from death threats received in Veracruz.
"The state level authorities said on Monday that they launched a search operation for Flores, including checkpoints on major roads in the area, within a couple of hours of the kidnapping. . . ."
N.Y. Times Launches Spanish-Language Edition
"For decades, The New York Times has reached news consumers in Spanish-speaking countries by selling its content to Latin American and Spanish newspapers through The New York Times News Service," Teresa Mioli reported Monday for the Journalism in the Americas blog of the Knight Center for Journalism at the University of Texas at Austin.
"Now, the U.S. news corporation is going after that audience directly with the launch of The New York Times en Español, nytimes.com/es, which launched on Feb. 8, backed by a team of Latin American journalists based in Mexico City.
"Many of the most important newspapers in Latin America are clients of the New York Times News Service and pay fees for the right to publish, in print, online and mobile, content from the Times' journalists. Some have been publishing a weekly print edition of the Times.
"The Spanish-language and Portuguese-language newspaper markets have been so important for the Times that they are the only regions of the world where the news service offers packages in the local languages, according to the company's site. . . ."
"The Mother of All Ethnic Publications Lists" Compiled
"With the help of some of my journalism students at Lehman College, who were asked to compile lists of 20 U.S. ethnic publications for an 'extra credit' assignment last semester, I have created (mostly for use by my current and future students) the mother of all ethnic publications lists — with links to close to 400 web sites!," <a title="">http://www.miguelperez.com/us-ethnic-publications.html Miguel Perez wrote Monday on Facebook.
"There are some such lists on the internet. But none are as comprehensive as this one and many of them are extremely outdated, filled with links to websites that no longer exist.
"Please note that while this list is huge, it only includes publications that cover U.S. ethnic communities, not foreign publications.
"Yet, I'm sure that I'm still missing many other sites that are not on my list. Please check it out. It's in alphabetical order. If you can think of any other U.S. Ethnic Publication that is not on my list, PLEASE send me a link to that site and I will include it."
McCauley Leaves Cincy Enquirer for Education Advocacy
"I'm not good at goodbyes," associate opinion editor Byron McCauley wrote Friday in the Cincinnati Enquirer.
"I'm moving on from The Enquirer to work in education advocacy in Connecticut with the promise of helping all kids have access to a high-quality public education.
"My mom was a public school teacher who gave her heart and soul to her students, including food, clothing, toiletries and love. All children need this before they can learn. Those challenges continue today, in every city in America. And, sadly, zip codes too often determine whether a kid succeeds or fails. So, I'm all in.
"Fourteen years ago, during my first full weekend in Cincinnati, I witnessed the implosion of Riverfront Stadium. The site where sports memories were made was gone in an instant. And, today, that space is electric in a different way: a new stadium, restaurants, apartments and public spaces with clean river views. That was only the beginning. The story of the Cincinnati renaissance is not finished, but what I have witnessed is extraordinary.
"This is also a city and region full of warts that I hope will fade over time. People of goodwill are working on reducing poverty and homelessness. And, the city of Cincinnati and the business community are rightly focusing on economic inclusion and empowerment that can lead to wealth-building. When I moved here, Cincinnati was under an economic boycott in the aftermath of a white officer killing an unarmed black man and days of racial unrest. Today, Cincinnati is playing catch-up but beginning to make real progress.
"A transformation of bricks and mortar, and hearts and minds. . . ."
Texas Tabloid Backs Off From Publishing Police Addresses
"A little-known Texas tabloid threatened to publish the names and addresses of every San Antonio police officer — as retaliation for a controversial officer-involved shooting — only to back off one day later after national outrage," Jason Silverstein reported Monday for the Daily News in New York.
"San Antonio Observer editor and publisher Stephanie Zarriello likened local cops to Klansmen and sex offenders in a Saturday press conference, announcing her paper's plan in response to the death of Antronie Scott, an unarmed black man.
" 'Like Ku Klux Klansman with hoods, they do everything that they can in order to protect their identities for fear of being brought to justice,' Zarriello said, referring to San Antonio police.
"She said her paper was 'looking into the future prospects' of listing info for every single San Antonio cop, 'just as the names and addresses of sex offenders are publicized in order to protect the community from their wicked behavior.'
"Her plan did not go over so well. . . ."