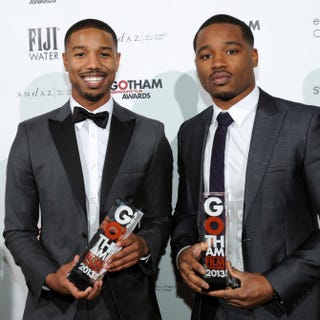 If it ain't broke, don't fix it.
Actor Michael B. Jordan is reportedly set to join the Black Panther cast, reuniting for the third time with director Ryan Coogler, who worked with him on Fruitvale Station and Creed, according to the Hollywood Reporter. This will not be the first time Jordan has played a comic book character—he was Johnny Storm in The Fantastic Four last year. 
The role of the Black Panther itself has already been claimed by Chadwick Boseman, while Lupita Nyong'o is in negotiations to star alongside him, so rumors are floating that Jordan may play a villain in the highly anticipated film. Marvel had no comment.
Boseman and Black Panther were introduced in Captain America: Civil War, which has already grossed $700 million worldwide in less than two weeks.
Black Panther, whose name is T'Challa, is the warrior king of Wakanda, Marvel's fictional African nation that is rich in "an unbreakable alloy called vibranium," says HR.
Black Panther has a Feb. 16, 2018, release date, with production set to start in early 2017.
Read more at the Hollywood Reporter.