As his career shows, Michael B. Jordan has not been one to shy away from complex portrayals of black people. The actor, whose first major break was as Wallace on The Wire, has played Oscar Grant, a 22-year-old black man killed by a Bay Area Rapid Transit officer on New Year's Day, and Black Panther's primary villain, Erik Killmonger, a black man so obsessed with the promise and allure of Wakanda, he's willing to kill—and be killed—for it.

But at one point in his career, Jordan says, he deliberately sought roles written for white characters. In a conversation with Issa Rae for Variety's TV show Actors on Actors, Jordan said that around the time he was working on Fruitvale Station, he told his agents to filter the roles they sent to him.
"[I told my agents] I don't want to go out for any role that's written for African Americans in the breakdown," Jordan told Rae, who nodded knowingly in response. "I want to only go for, like, [roles written for] white males. That's it. Me playing that role is going to make it what it is. I don't want any pre-bias on the character."
Jordan added that writers "write what they know, what their encounters of us would be. And that's a slight bias."
It's necessary to note Jordan's framing: The way he words "their encounters of us" while gesturing toward Rae suggests that the specific writers Jordan is referring to are nonblack, making the issue more about how black characters are written, rather than any reluctance to acknowledge his character's race.
G/O Media may get a commission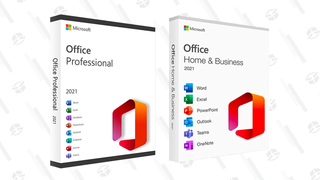 89% off
Microsoft Office Professional 2021 Lifetime License
"That's why Chronicle was such a big role for me," he continued. In that 2012 film, Jordan plays the lead—a black teen who discovers that he has telekinetic powers. The role had been written with a white teen in mind—one with an Eastern European last name that had to be changed once Jordan landed the role. Several years later, Jordan would play Johnny Storm, another superhero character that had previously been written as white.
For her part, Rae discussed how films like Black Panther have encouraged her to try out for roles she had previously assumed she had no chance of getting.
The full exchange is scheduled to air in two episodes on Tuesday, June 19, and Thursday, June 21, on KOCE-TV and will be available to stream on pbssocal.org.