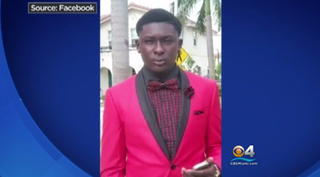 A Miami mother is looking for answers, and Miami-Dade police are looking for suspects, in the shooting death of a Miami teenager walking home from school, CBS Miami reports. 
Johnny Lubin Jr., a 15-year-old freshman at Miami Northwestern Senior High, was walking home when he was shot twice around 4 p.m. Wednesday.
"This juvenile was walking home from school and was approached by a vehicle," Miami-Dade Police Department Public Information Officer Jennifer Capote told the news station. "Shots were fired and unfortunately … this juvenile lost his life."
"Words can't even describe this feeling right now," Johnny's mother, Julie Examar, said. Examar was at work when she got the call that her son had been shot, and she immediately rushed to be with him at the hospital, where he underwent surgery. Unfortunately, doctors could not save the teen. 
Examar told the news station that she is unsure as to who would want to hurt her son. "He was a very outgoing kid. He loved to play football. Everybody loved him," she said of her eldest child. 
"I want to say, the person who did this, they need to come forward," the grieving mom added. "They need to stop all this foolishness, killing innocent teenagers for no reason. I don't know what's going on. I don't know what happened, but it didn't need to happen this way."
According to CBS Miami, Johnny is the third Northwestern student to be shot and killed since September. 
"Consumed by anguish following news of yet another tragic loss in our Northwestern family. Praying for those affected by this latest tragedy," Miami-Dade County Public Schools Superintendent Alberto Carvalho tweeted, according to the station. 
Read more at CBS Miami.