Laura Harrier is always lovely. She's the girl next door—you know, approachable and sweet—who also happens to have a face and figure so hot, she's on fire.

At Monday night's Met Gala—the Metropolitan Museum of Art's Costume Institute powerhouse fundraiser hosted by Vogue editor Anna Wintour and this year's co-hosts, Rihanna, Amal Clooney and Donatella Versace—Harrier let her rising star shine over Gotham.
Harrier was dressed by Louis Vuitton for the theme, "Heavenly Bodies: Fashion and the Catholic Imagination," but I couldn't quite work out how her dress spoke to it. While many of her celebrity counterparts were in veils and headdresses—Cardi B, dressed by Moschino's designer Jeremey Scott, nailed it—Harrier's dress seemed more fitting for sun worship than a pilgrimage to the Vatican. Nonetheless, her hair and makeup were fit for the gods.
The Glow Up got the secrets on how to create Monday night's red-carpet hairstyle from Harrier's hairdresser, Teddi Cranford. Explaining Harrier's look, Cranford said: "We wanted to be conservative to stick with the theme, but with that minidress, how could you not be flirty and fun?! The perfect schoolgirl vibe."
G/O Media may get a commission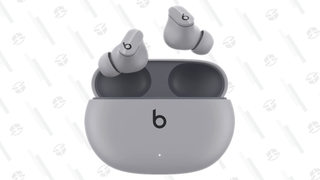 We should all be so lucky to have a school uniform that looks that good—or to look that good in it. Maybe we should all go to LVMH University (LVMH is Louis Vuitton's parent company). As for that Bardot-worthy hair? Cranford also gave us the texture breakdown, which, she told us via email, "was inspired by a '60s wave."
Here's a bargain-friendly beauty boost: One of the products Cranford relied upon is ApotheCARE Essentials, which can be found right on the drugstore shelves. Here's how she said she got Harrier's hair gala-ready:
1. Beforehand, I had Laura prep her hair with ApotheCARE Essentials the Booster Shampoo and Conditioner ($24.99/set) for supreme volume.

2. Then I brushed her strands out with a Mason Pearson brush ($170-$230) and added Oribe Grandiose Plumping Mousse ($39) at the crown, followed by ApotheCARE Essentials the Mender Hair Oil ($10.44) to her wet ends. Make sure you spread the oil evenly so you don't weight it down, and you'll have perfectly soft curls.

3. After blow-drying into the shape, I curled her ends with a 1-inch barrel iron and pinned up the hair all around her head to set into rich waves.

4. After about 15 minutes, I combed her hair out with my Y.S. Park Tail Comb ($16-$20) and teased the crown. I pinned a few strands right at the back to seal the deal with some extra '60s volume. To finish the look off, we sprayed a ton of fine-mist hairspray to make sure the look lasts all night long!
Judging by the list of movies on the horizon for Harrier following her head-turning appearance in Marvel's blockbuster Spider-Man: Homecoming—including Spike Lee's BlacKkKlansmen and HBO's Fahrenheit 45—we're likely going to be blessed with a lot more white-hot red-carpet looks from Harrier this summer. The Glow Up will be watching for this girl-next-door's glamorous star to shine.